This post may contain affiliate links. Please read my full disclosure
here
. This site uses cookies to provide a better user experience. See more about my privacy & cookies policy
here
.
glitternspice.com is a participant in the Amazon Services LLC Associates Program, an affiliate advertising program designed to provide a means for sites to earn advertising fees by advertising and linking to amazon.com.
(Last Updated On: July 8, 2018)
25 Wicked Disney Descendants Crafts And Recipes
The Disney Descendants movies are so much wicked fun for kids and the whole family. If you love Disney's evil villains, you will most definitely enjoy this series of movies featuring the offspring of Maleficent, Evil Queen, Cruella D'Evil, and Jafar.
The villains have been banished to the Isle of the Lost to serve out their eternity, but the good heart of Belle and Beast's son, Ben, convinces his parents to give the villains a second chance and invites the descendants of the evil villains to attend Auradon Prep School with the 'good' people of the kingdom.
Of course, when you mix evil and good, there is sure to be plenty of wicked fun to be had!
Due to the popularity of these characters, the Disney Descendants franchise has grown to include the first Disney Descendants movie, Disney Descendants 2 movie, and Disney Descendants Wicked World animated series.
–> Watch Wicked World Volume 1
–> Disney Descendants 3 is coming Summer 2019!!
I put together a collection of 25 wicked Disney Descendants Crafts And Recipes that are perfect for a movie watching or birthday party. You will find a selection of crafts, decor ideas, snacks and drinks inspired by the 'rotten to the core' descendants and their evil parents.
Who is your favorite descendant? Mal (Maleficent's daughter), Evie (Evil Queen's daughter), Carlos (Cruella D'Evil's son) or Jay (Jafar's son)? Evie captured my heart!
25 Wicked Disney Descendants Crafts And Recipes
1. Kids can make a stylish storage vessel for keeping their small doll accessories safe from getting lost with this easy Disney Descendants Painted Jar Craft from Views From The 'Ville.
2. Every party needs a cake! Learn how to make this spectacular Disney Descendants Cake using fondant and a stencil from Ashlee Marie. Cut into the cake for a colorful surprise!
3. I love the pretty colors in these Dark-Side Velvet Cupcakes inspired by Disney's The Descendants movie. You can get the recipe for these cupcakes over at Adventures Of A Couponista.
4. An evil villains party is not complete without some enchanted apples. These purple candy apples look delicious! Get the recipe for Mal's Evil Apples over at Time Out With Mom. 
5. This two-ingredient Appletini Drink from Blogging Mom of 4 for kids is so easy to make. Make your 'rotten to the core' kids feel extra special by serving it in fancy martini glasses.
6. Inspired by Mal, daughter of Maleficent, this purple and green vanilla milkshake made with Jello and ice cream looks wickedly delicious! Grab the recipe for Mal's Milkshake over at Sweet Lil You.
7. This Wicked Apple Popcorn from Comic Con Family is the perfect snack to munch on while watching the Descendants. It is sweet and spicy, just like Mal and Evie! They've also included a free printable popcorn box for you to use during your own movie party.
8. Mal and Evie make a love potion to make Ben, son of Belle and the Beast, fall in love with Mal so she can get close to the magic wand that is kept under guard in their castle.  Kids can make their own love potions with this fun and easy Disney Descendants Flubber craft from ABC Creative Learning.
9. These "Rotten To The Core" Caramel Apples from Eclectic Momsense are a yummy snack to serve while watching the Descendants movie. Hollow out a couple of apple halves and fill them with a wickedly delicious caramel Jello for a snack Evie will very much approve.
10. Ooh la la! These Disney Descendant Cupcakes are too cute to be made with evil. Love the attention to detail! You can get the recipe and learn how to make the Disney Descendant logo from royal icing over at My Crafty Life.
11. Dress up simple cupcakes with these wicked Disney Descendants Cupcake Toppers by Summer Scraps. Just print them out, mount on glitter paper and add a toothpick.
12.  An evil villains party wouldn't be complete without some poisonous apples. Learn how to make these black and blue Poison Candy Apples from Wannabite. I think the color on these apples is stunning and they look almost too gorgeous to eat. Almost.
13. "Mirror Mirror on the wall. Who's the fairest of them all?" Here is an easy Broken Glass Mirror Craft from The Happy Youngters that makes the perfect decor for a Disney Descendants party. All you need is an old mirror, spray paint, and CDs.
14. Kids can have wicked fun getting to know the villains of Disney's Descendants movie with this fun Disney Descendants Printable Memory Game from Busy Mom's Helper. The game includes 16 characters to mix and match.
15. Set the kids up with some pony beads and string and let them make Disney Descendants Bracelets to match their favorite characters. This a great craft to do during a birthday party or after watching the movie. Get this easy tutorial from Thrifty Jinxy.
16. If your kids are fans of the villain Jafar and Jay, the son of Jafar, they will love making their own Jafar Hat for watch the Descendants movie in style. You can get the instructions over on Stacey Homemaker.
17. These sweet Candy Treasure Chests by Not Just A Mommy make wonderful party favors to send home with guests during a Descendants movie watching party, especially for fans of Jay and Jafar. Make the treasure chest from Kit Kat chocolate bars and fill with candies and trinkets.
18. These DIY Vinyl Silhouette Villains mounted in old pictures frames are a simple decorating idea for a Descendants or villains party. You can get these free silhouette shapes from Simple Modest Chic.
19. Carlos, the son of Cruella D' Evil, is the inspiration for these Dalmatian Cake Pops. Cake pops dipped in white candy melts and decorated with black spots make easy treats to serve for a villains party. You can find the recipe at Wannabite.
20. Make your own spell book like the one Mal has in the movie so you can cast spells and make love potions too. You can get the tutorial and free printable for Mal's Spell Book over at The Tip Toe Fairy.
21. Learn to make your own Maleficent Headband over at As The Bunny Hops. You can make this craft from just 4 items including a thick, black headband, floral wire, electrical tape and crepe paper.
22. A really fun snack for a Descendants party are these sweet and salty Ursula's Tentacles made with pretzel rods, candy melts, and chocolate chips. You can get the recipe and tutorial over at Mainly Homemade.
23. Play this fun Free Printable Disney Descendants Fortune Teller Game to find out which character you are from the movies. Sharpen your origami skills and get ready to find out if you are rotten to the core or one of the good guys? This freebie is available from Get Away Today.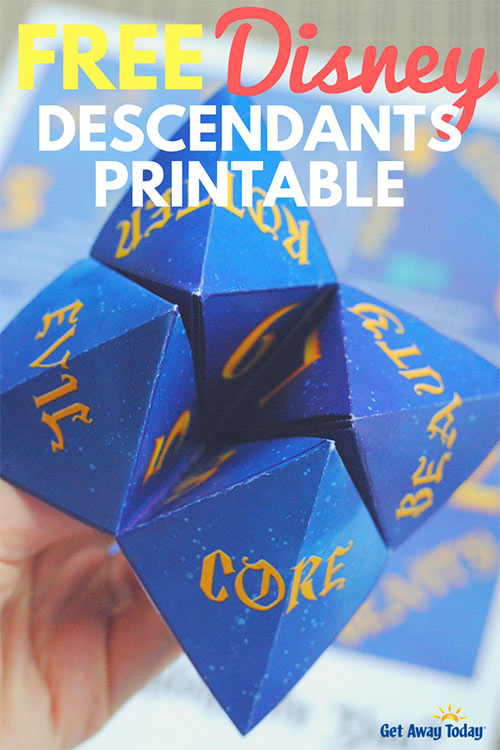 24. A party fit for villains wouldn't be complete without some Cruella De Vil Cupcakes Get the recipe and tutorial over at Mainly Homemade where she teaches you how to make black and white marbled cupcakes finished off with black and white icing piped to resemble Cruella De Vil's hair.
25. Do you remember playing with paper dolls when you were young? Now your kids can enjoy this timeless activity with this super cool Evie Paper Doll Craft available from Skgaleana. 3 cute outfits to choose from. Just print, cut, and play!
Thanks for visiting! I hope these wicked Disney Descendants crafts and recipes provide heaps of villainous fun and entertainment for your family.
Watch Trailer for Disney Descendants 3
More Wicked Disney Descendants Articles You May Like:
–> Disney Descendants Birthday Invitations & Party Supplies
 Disney Descendants Birthday Party Invitations Disney Descendants Costumes And Accessories
DID YOU LIKE THIS POST? PIN IT FOR LATER!