This post may contain affiliate links. Please read my full disclosure
here
. This site uses cookies to provide a better user experience. See more about my privacy & cookies policy
here
.
glitternspice.com is a participant in the Amazon Services LLC Associates Program, an affiliate advertising program designed to provide a means for sites to earn advertising fees by advertising and linking to amazon.com.
(Last Updated On: June 28, 2018)
Printable Football Party Invitations For Adult, Kid & Family Parties
Football and tailgating season is upon us and it is time to party and watch and play some football!! Football themed parties are fun for people of all ages and are popular for celebrating all kinds of occasions and events such as birthday parties, couples showers, baby showers, Super Bowl and Grey Cup parties, football watching parties, and tailgate parties.
The best parties start with the invitation! You'll score a touchdown before the party even starts with one of these show-stopping, printable football party invitations. Come game day, your guests will be ready to watch or play some football, drink beer (or soda), eat good food and cheer for their favorite team among great company!
Printable Football Party Invites
The following printable football party invitations are super easy to order, and best of all, they are very affordable too! The invites are personalized-for-you by a graphic designer on Etsy. You pay a small fee for the design and personalization and then print them yourself on your home printer, at a photo center or at an office copy store. You can print as many copies as you need! Many of these shops also offer to print the invitations for you. Just make sure to order extra early so you have plenty of time to receive them before your party!
Pick a design you like and submit your party details to the shop owner. You will receive a proof of the invite personalized with your information usually within 24 to 48 hours for your approval. Each shops processing times are listed in the description. After you approve the final design, you will receive a JPEG or PDF file sent to your email inbox, ready for you to print. The invites can also be sent as an email e-vite too (which is a great way to save even more money)!
The turnaround time is different for each seller, generally 24 to 48 hours, so make sure to check the individual listings before making a purchase if you are on a time schedule. Some sellers offer rush orders if you are a little late to the game!
Football Wedding Shower Invitations
Tailgating parties are such a fun idea for celebrating a newly engaged couple. They can be as casual or elaborate as you wish. Whether it's pizza and beer, or fancy BBQ and wine, tailgating parties are all about sharing good food, making memories, and playing or watching football with friends and family. There are no set rules!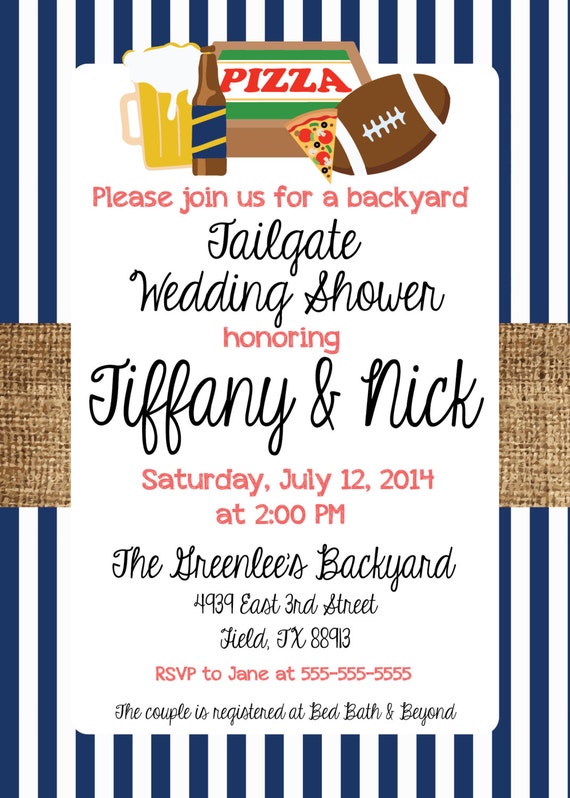 Tailgate Wedding Shower Invitation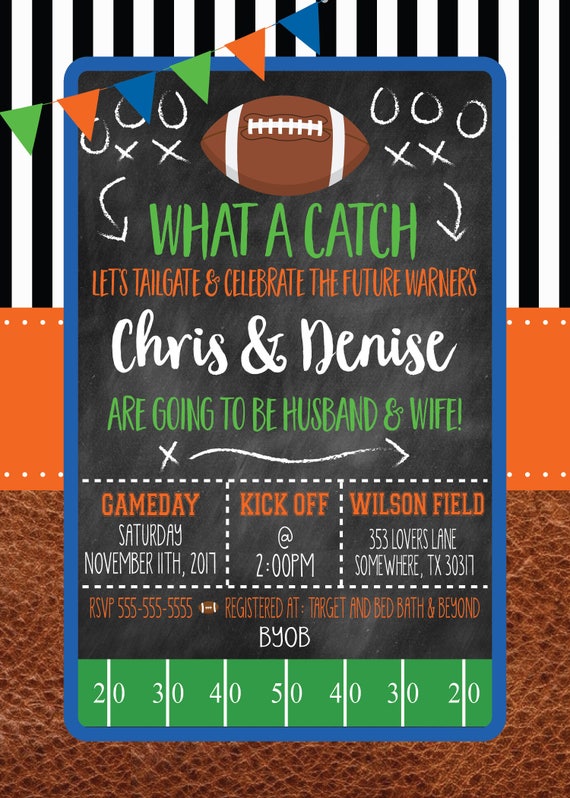 Tailgate Couples Shower Invitation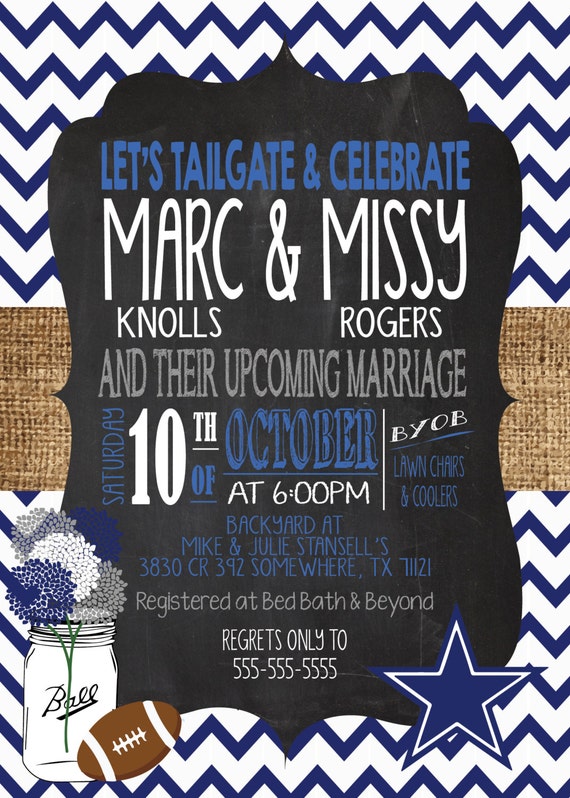 Tailgate Engagement Party Invitation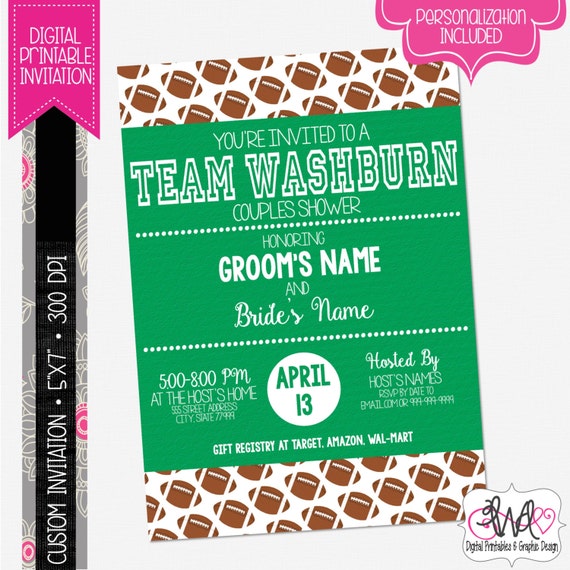 Football Themed Wedding Invitations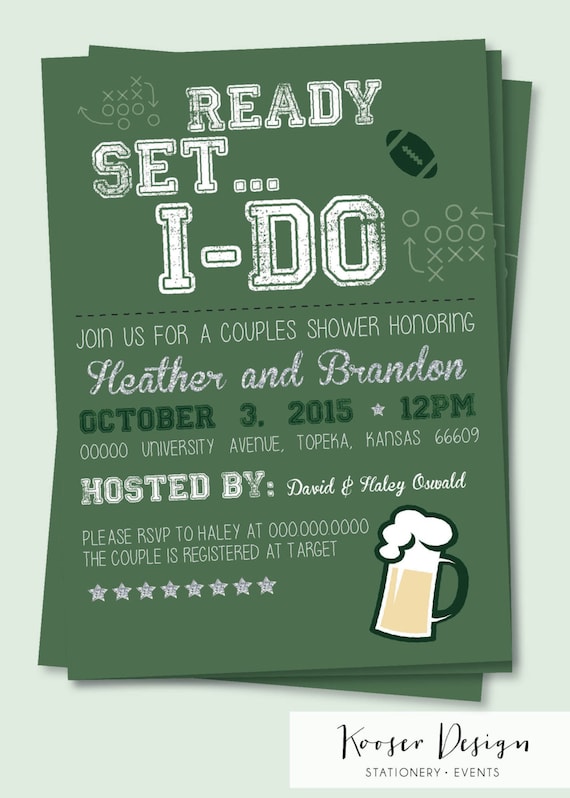 I Do Football & BBQ Couples Shower Invitation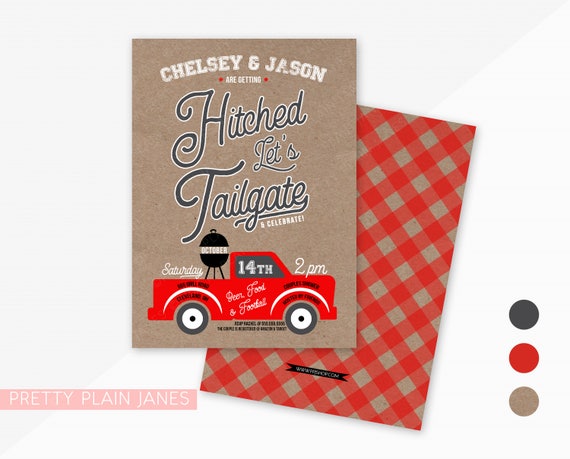 Football Couples Shower Invitation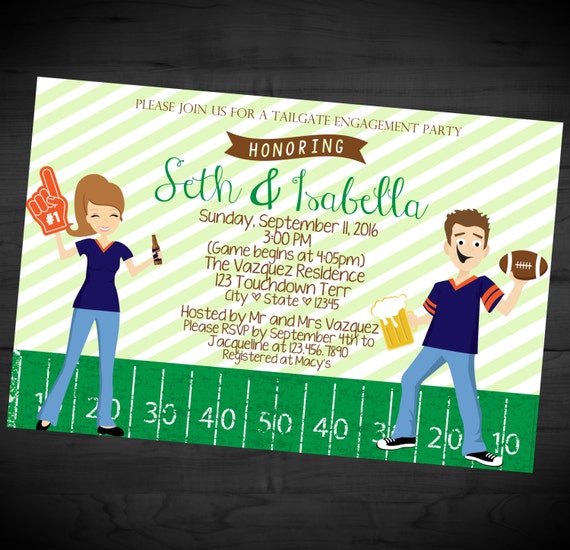 Football Themed Couples Shower Invitation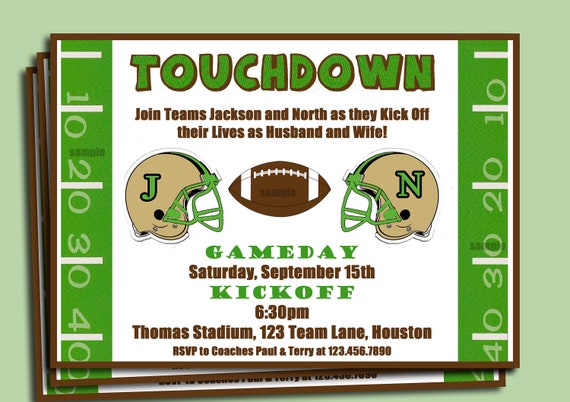 Football Couples Wedding Shower Invite

Football Baby Shower Invitations
A new champ is on the way! Kick off the announcement of your new addition to the team with a football themed baby shower. From tailgate parties to gender reveal parties, there are so many cute football baby shower invitations to choose from, the hardest part will be picking just one.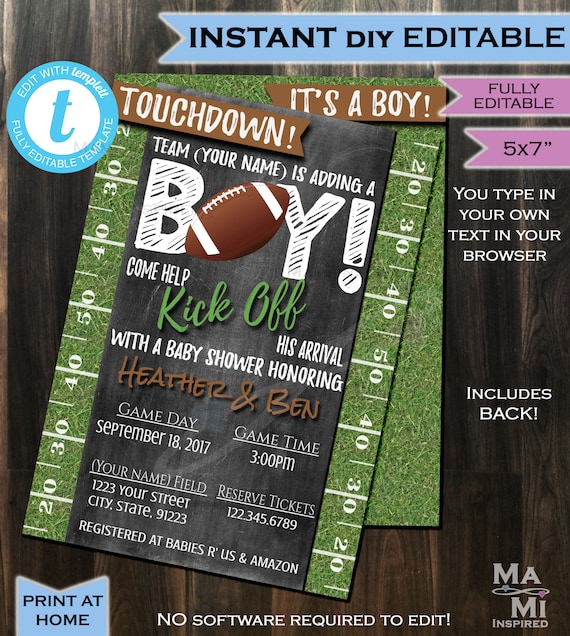 Editable Football Party Invitation Template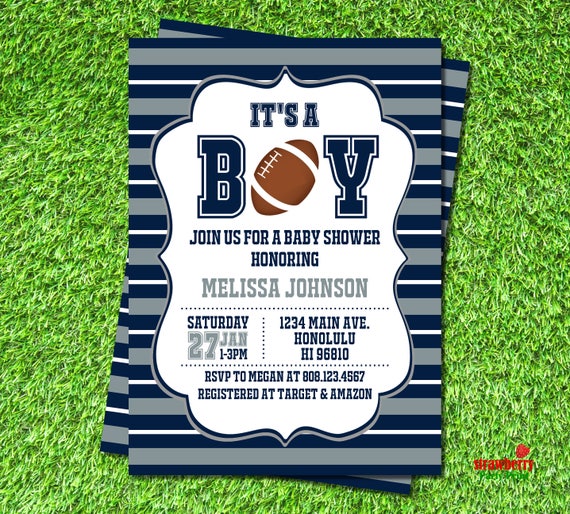 Football Baby Shower Invitation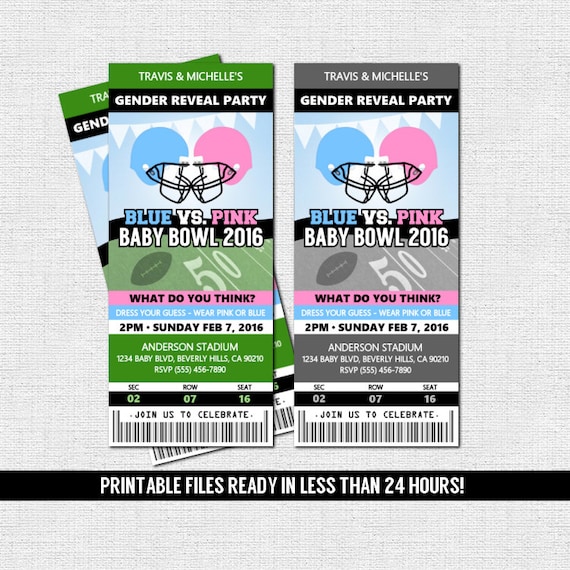 Football Gender Reveal Invitation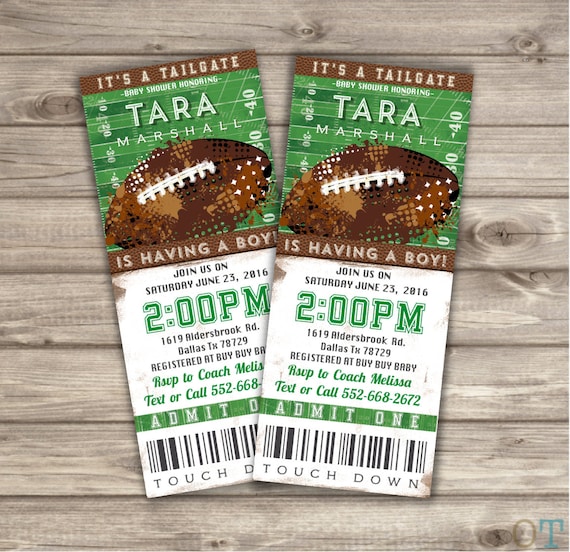 Tailgate Baby Shower Invitation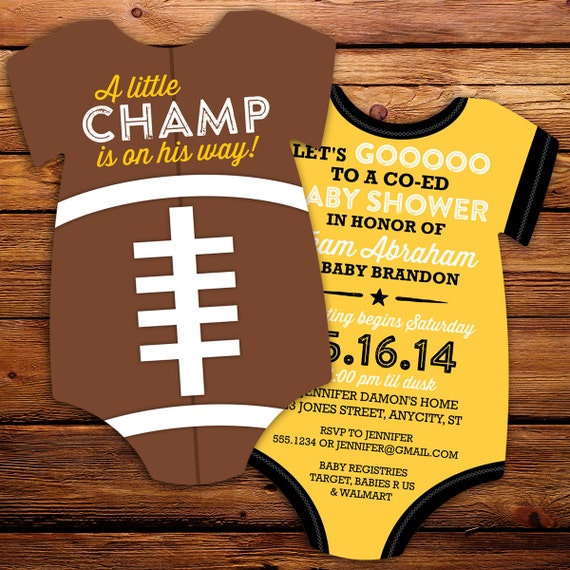 Football Baby Shower Invite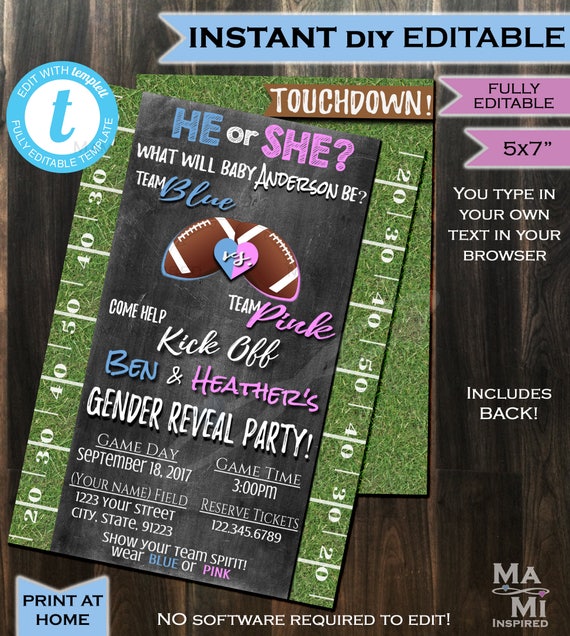 Football Gender Reveal Invitation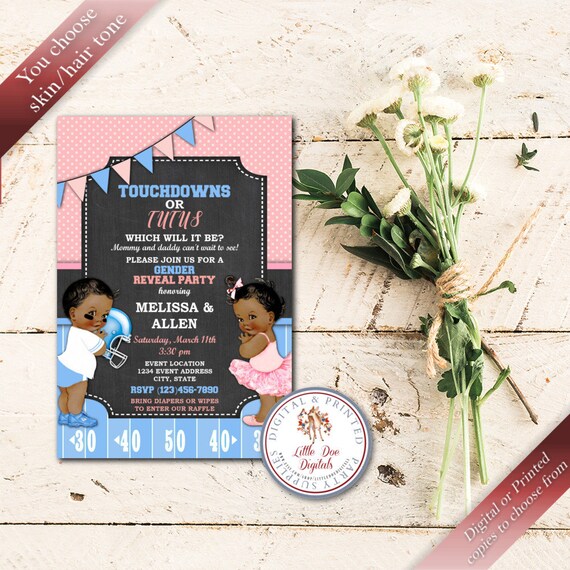 Touchdowns or Tutus Gender Reveal Party Invitations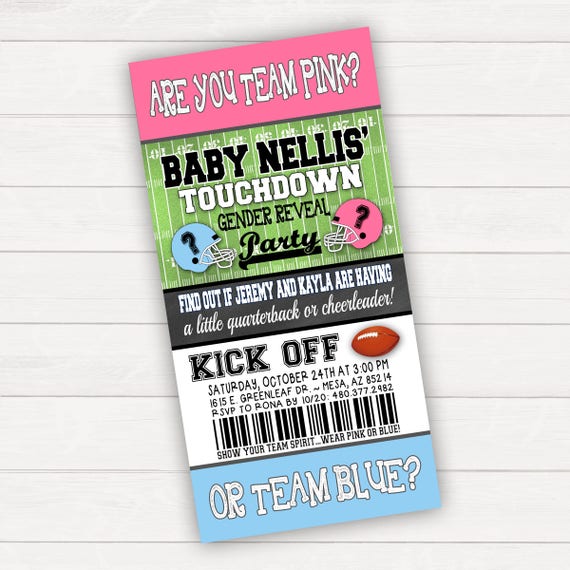 Baby Shower Ticket Invitations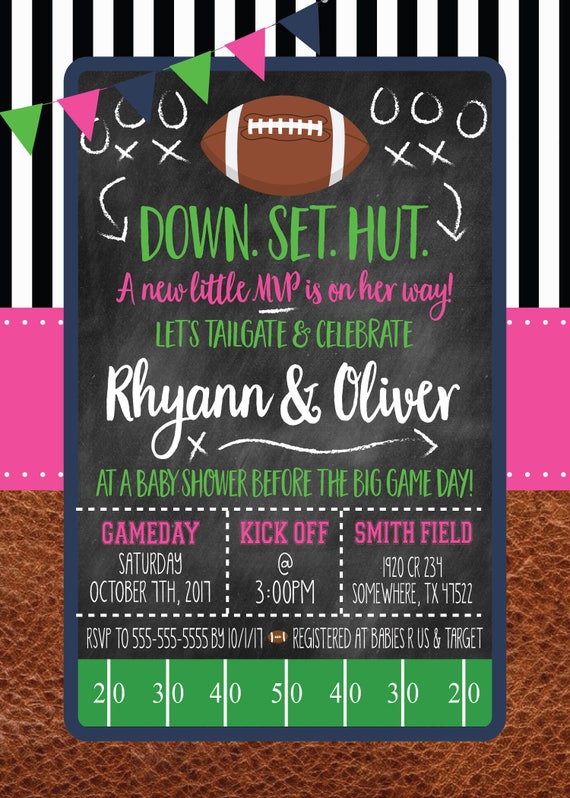 Baby Shower Tailgate Party Invitations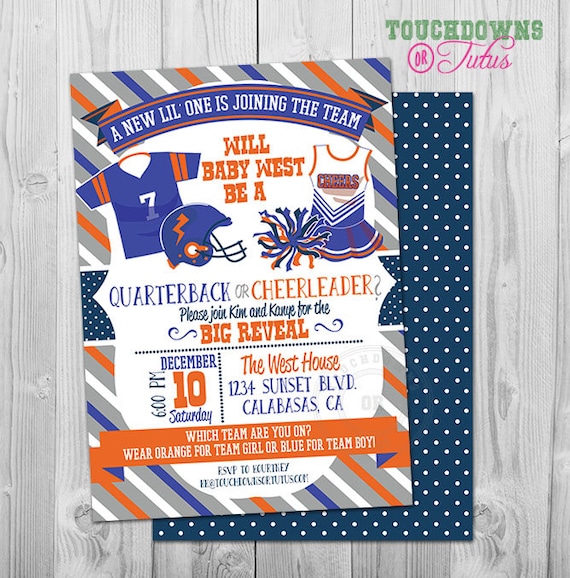 Quarterback or Cheerleader Football Gender Reveal Invite

Football Birthday Party Invitations
Football themed birthday parties are fun for all ages, from young kids to seniors. Honor your MVP with a fun football birthday party invitation. The ticket invitations are really cool and make great keepsakes for the birthday child and their friends. I love the photo invitations the best!!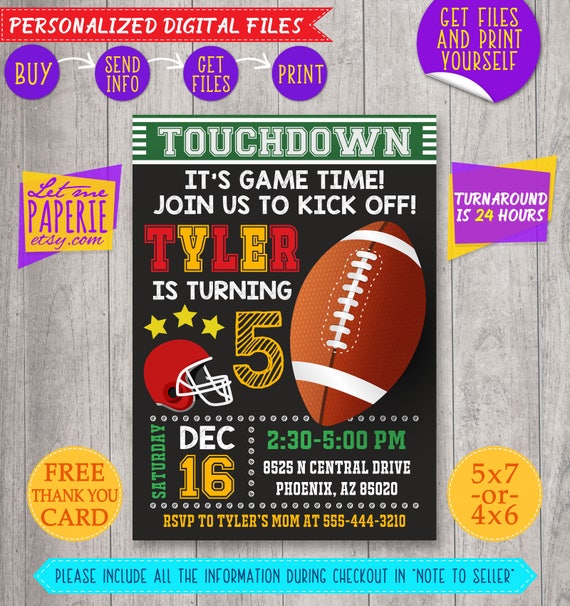 Football Birthday Invitation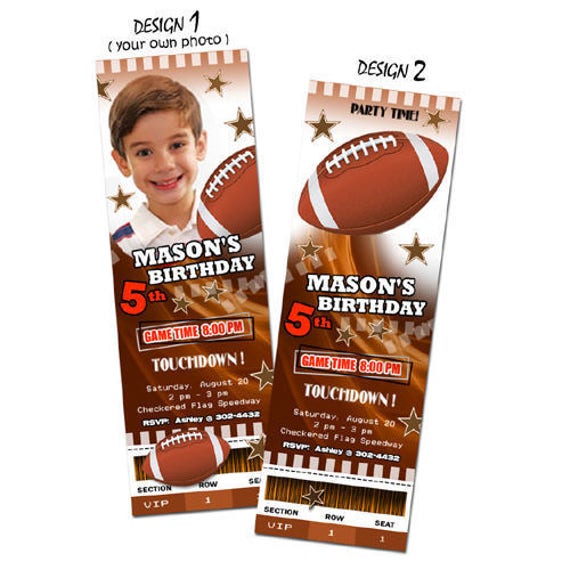 Football Ticket Birthday Invitation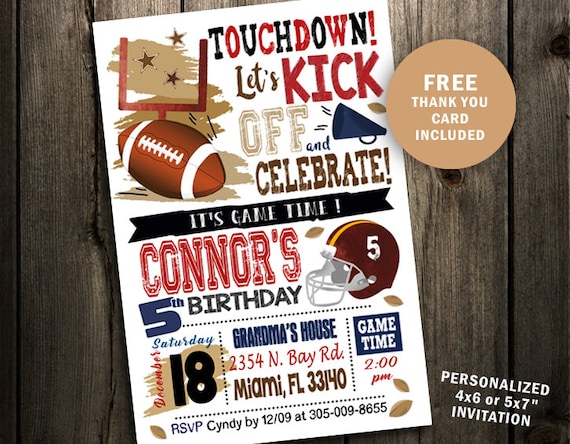 Football Birthday Party Invitation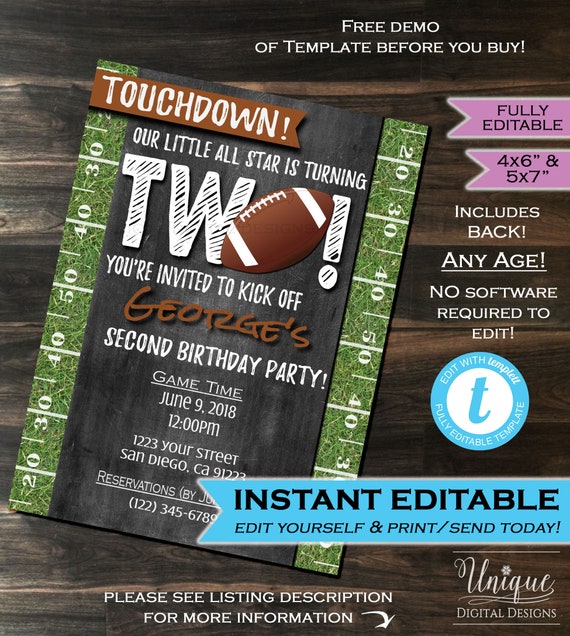 Football Birthday Invite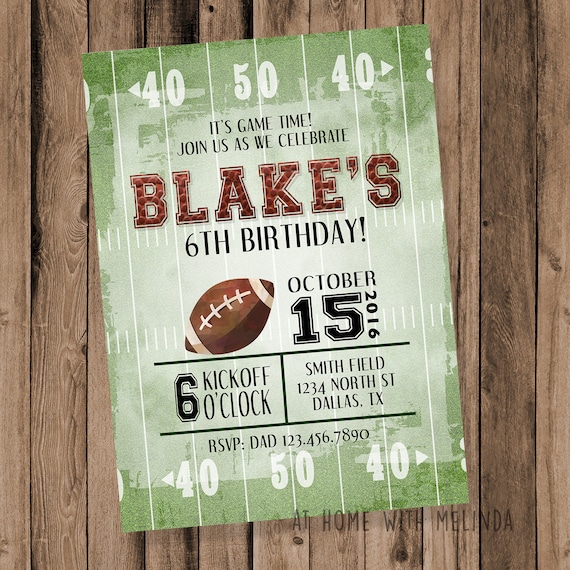 Football Birthday Party Invite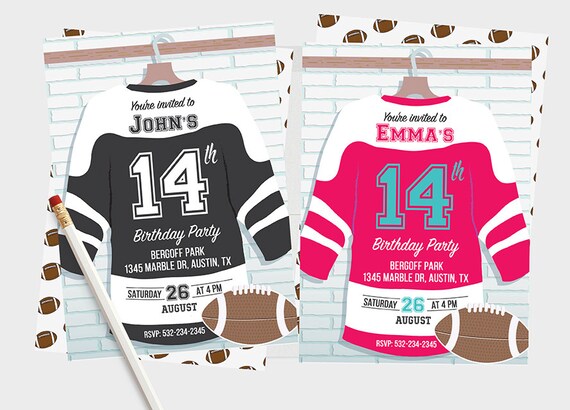 Jersey Shirt Football Invitations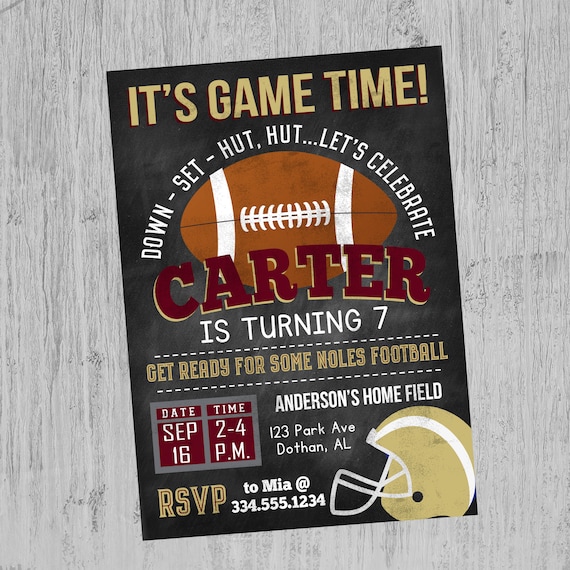 Printable Football Kids Birthday Invitation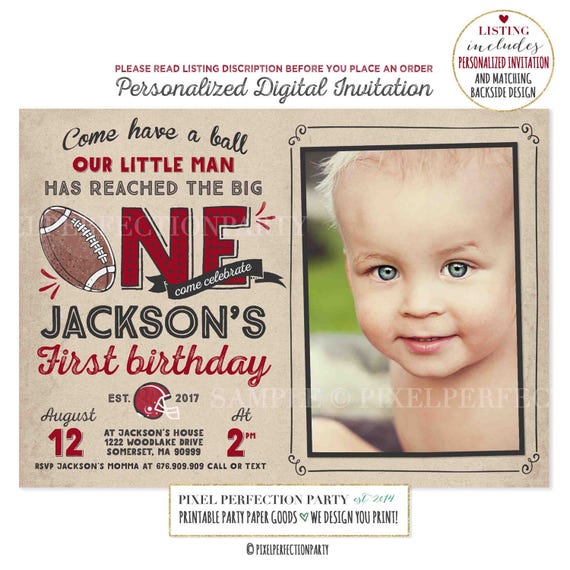 Football First Birthday Invitation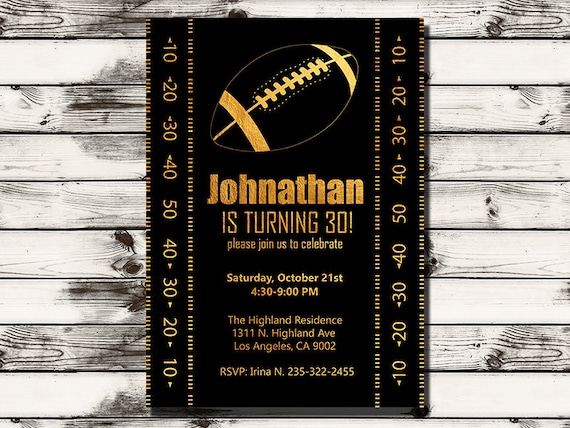 Adult Football Birthday Party Invitation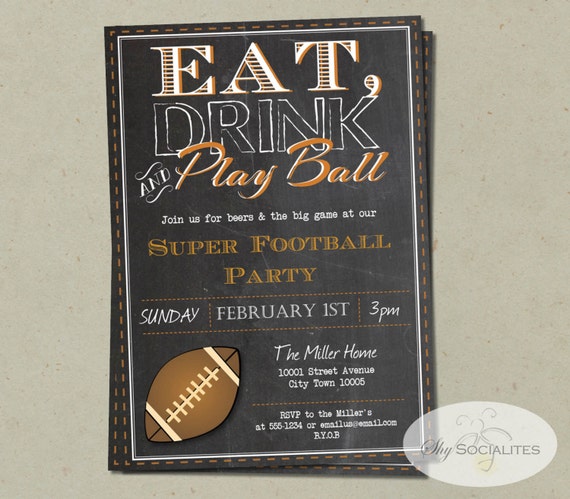 Adult Football Birthday Invitation

Tailgate Party Invitations
Tailgate parties are popping up across the country as friends and family get together to cheer on their favorite team. Whether you are hosting a pre-game party, a football watch party, or an afternoon of tossing the football around with the guys, these tailgate party invitations are perfect for getting the party started!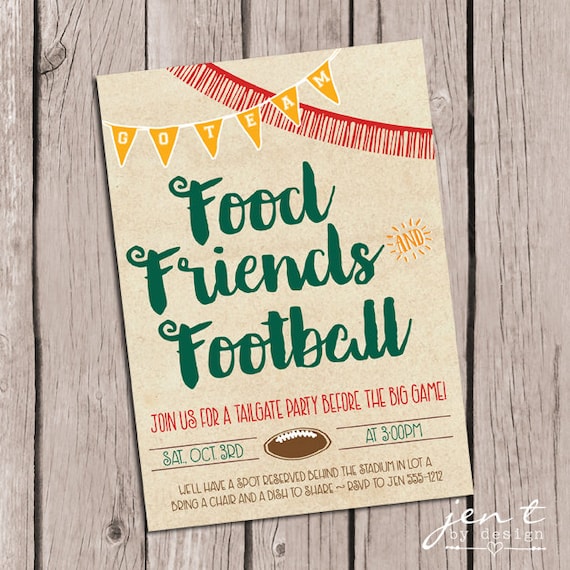 Tailgate Pre-Game Party Invitation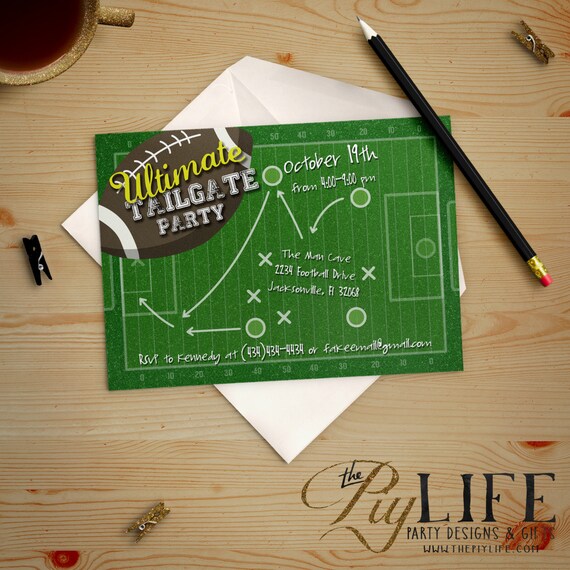 Ultimate Tailgate Party Invitation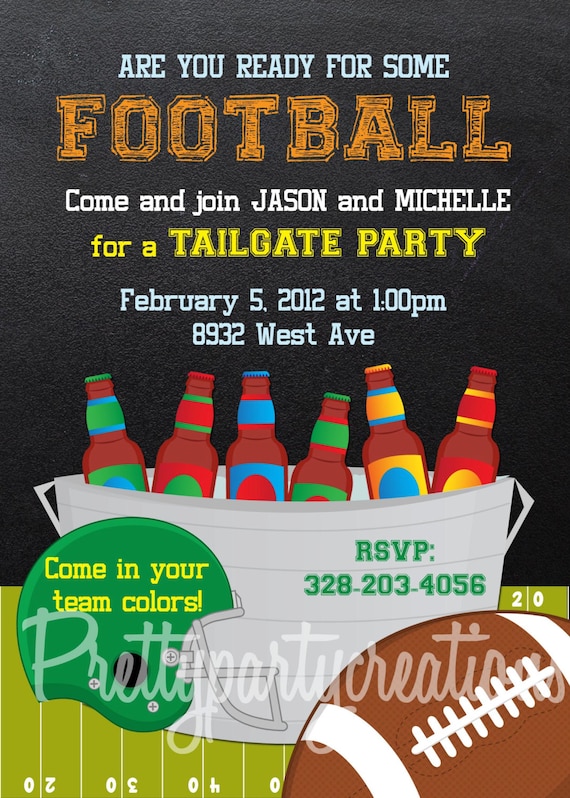 Tailgate Party Invite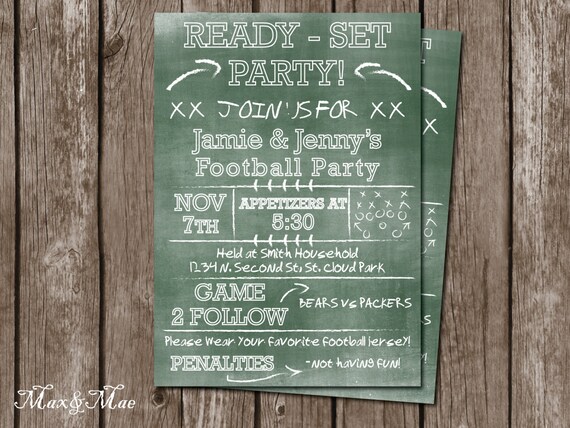 Football Party Invitation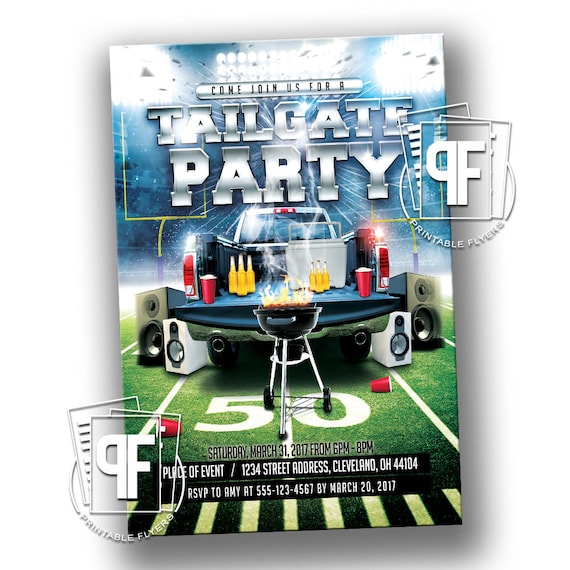 Tailgate Birthday Invitation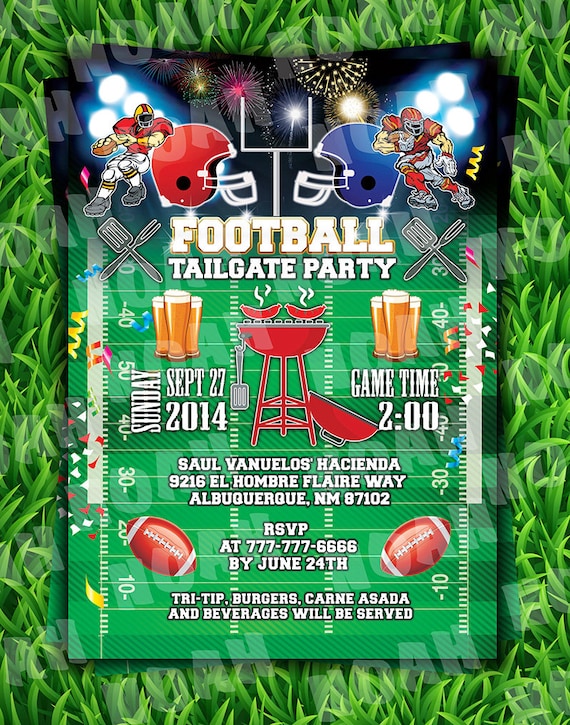 Tailgate Football Party Invitation

Super Bowl Invitations
The Super Bowl is one of the most watched sports events of the year! Invite your fellow or rivalry friends over for a football watch party with a Super Bowl invitation to kick your party off in style. These are some examples of last years Super Bowl invitations. This section will be updated closer to the end of the year when new invites become available, so be sure to check back later to see the new invitations for Super Bowl LIII.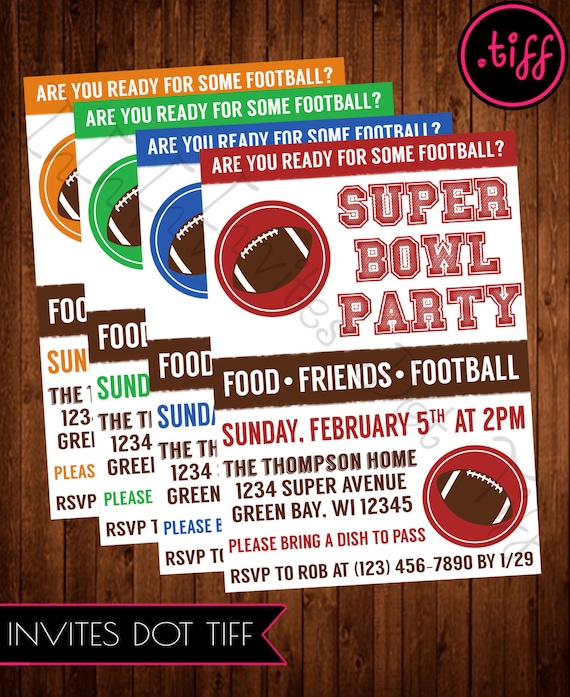 Super Bowl Invitation

Super Bowl Invite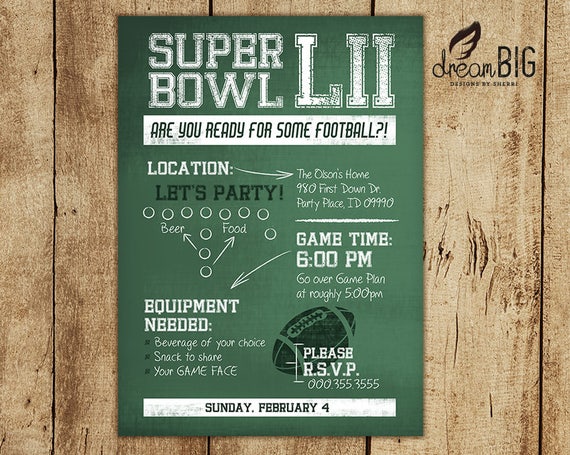 Super Bowl Party Invitation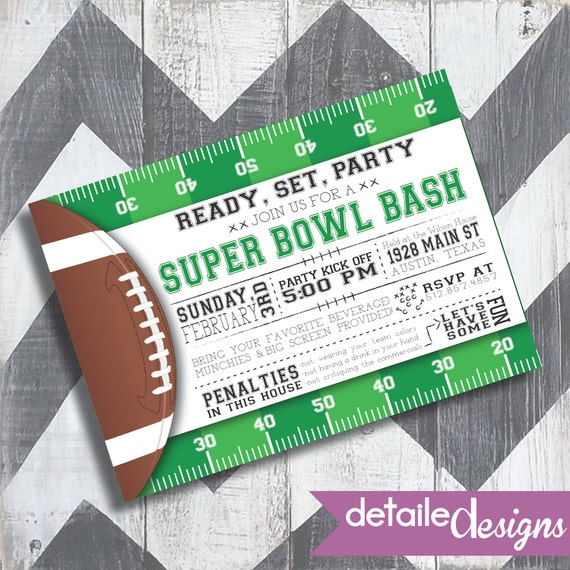 Super Bowl Party Invite

Looking for some fun and tasty football themed snack ideas to serve at your football party? You may enjoy these football party food recipes:
Thanks for visiting and I hope you found this collection of printable football party invitations helpful! Cheers!!