This post may contain affiliate links. Please read my full disclosure
here
. This site uses cookies to provide a better user experience. See more about my privacy & cookies policy
here
.
glitternspice.com is a participant in the Amazon Services LLC Associates Program, an affiliate advertising program designed to provide a means for sites to earn advertising fees by advertising and linking to amazon.com.
(Last Updated On: June 28, 2018)
Wondering what kind of gift to get for a baby of your geeky friends or family? Do you have a geeky baby you want to shower with nerdy gifts? Here is an adorkable collection of geek gift ideas for babies that are too cute for words. Even though these gifts are for baby, I am sure geek moms and geek dads will get the most enjoyment out of these geeky gifts.
You will find gifts for all kinds of geek babies from nerdy science babies to wizard babies to sci-fi babies to super hero babies. These geek gift ideas can be purchased from artisans who sell their creative talents on Etsy and at craft fairs and trade shows. When you buy handmade gifts from home-based businesses, your money goes directly to support a family rather than into the pockets of a big corporation.
Many of the shop owners featured below have a variety of geek themed items available in their stores. If you see an item you like, browse their shop to see if they have it in the geek theme you are looking for. Most of these shop owners welcome special requests. I hope you enjoy browsing this collection of geek gift ideas for babies.
Here is a quick overview on what you will find in this geektastic holiday gift guide:
Superhero Baby Gifts
Science And Nerdy Baby Gifts
Mustache Baby Gifts
Harry Potter Baby Gifts
Doctor Who Baby Gifts
Star Wars Baby Gifts
Teenage Mutant Ninja Turtle Baby Gifts
Super Mario Brothers Baby Gifts
Walking Dead Baby Gifts
Star Trek Baby Gifts
Pac-Man Baby Gifts
Ghostbusters Baby Gifts
Geek Gift Ideas For Babies
This Future Geek Printable Sign would look adorable in a nursery. Printable wall art is an inexpensive way to add character and charm to a nursery. Just pay a small fee for the design and then print and frame it. It makes a great gift for a baby when you are on a budget.
Future Geek Printable Sign available via TheNerdyFamily
Keep the ears of a future math wizard warm and cozy when venturing out on chilly days in a chenille lined Baby Bomber Hat. Perfect for the fall and winter months. Browse this shop for more geeky hats and baby accessories. They even have matching drool pads for attaching to a baby carrier.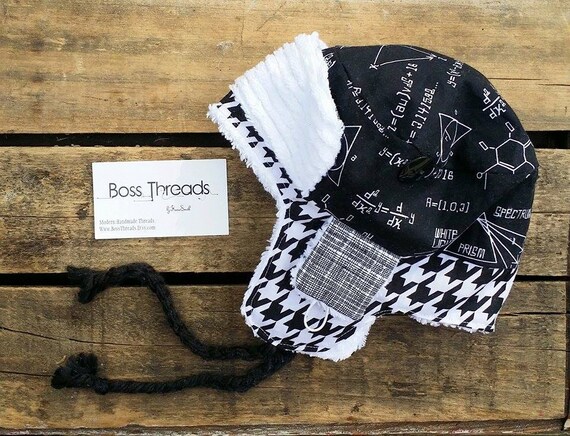 Science Geek Baby Bomber Hat available via BossThreads
You can never start too early teaching baby math and science facts! Here is a cute set of 3 plush Statistics Alphabet Blocks perfect for a future analyst of data. The blocks are made from a combination of soft flannel and minky material and stuffed with polyester filling. Choose which 3 alphabet letters and colors you prefer.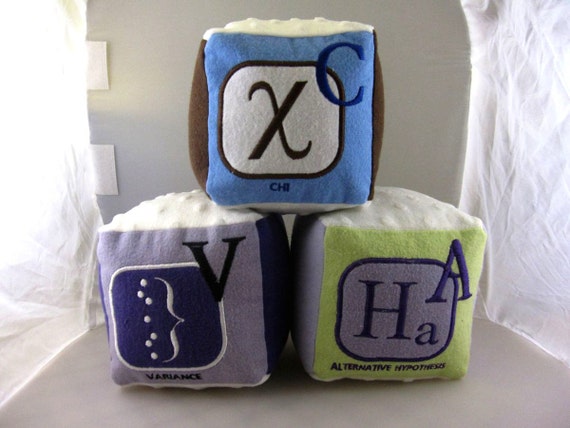 Statistics Alphabet Blocks available via NausicaaDistribution
For the warmer months, this techy Keyboard Sun Hat is perfect for shielding a young tot's eyes and head from the hot sun. And the hat is reversible too – the other side is a soft, denim material for when baby knows it is time to put the computer away and just enjoy the sunshine.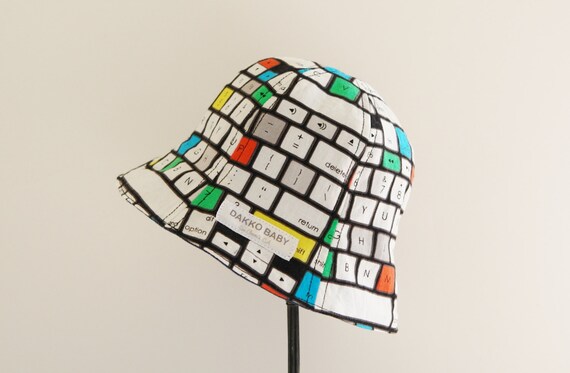 Computer Keyboard Baby Sun Hat available via DakkoBabySC
Wearing this Stashing Through The Snow Bow Tie Bib, your baby will be the most stylish geek at the Christmas dinner table. The bib is made with a colorful Christmas mustache print that is lined with soft, fleece material with a matching black bow tie sewn on the front. It is fitted with large velcro closures for easy opening and closing. Browse their shop for more cute and hip designs.
Staching Through The Snow Baby Bib available via NewYorkCityInspired
These Periodic Table Wooden Blocks make a smart gift for a future scientist or chemist. The blocks measure 1 3/4 inches, large enough not to pose a chocking hazard. The periodic table images are attached to the wooden blocks with a non-toxic water based sealant. They come in sets of 3, 6 or 10 and all include a muslin drawstring bag for storage.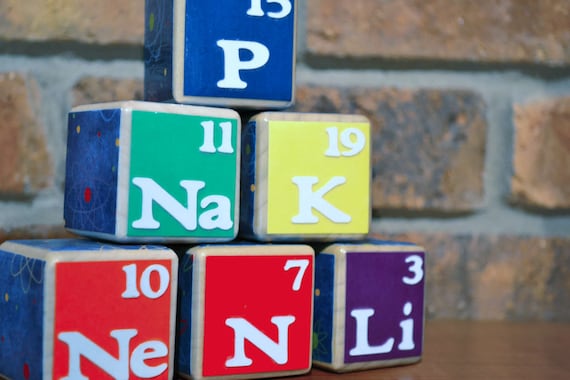 Periodic Table Wooden Blocks available via BlockPaperScizzors
This little Geeky Robot Plush with his hipster glasses and bow tie is so stinking adorkable! This is not a toy for baby or toddlers to play with, but rather it is a decoration for displaying on a shelf in a nursery. The robot is lovingly handcrafted from premium wool felt and sits approximately 4 inches tall.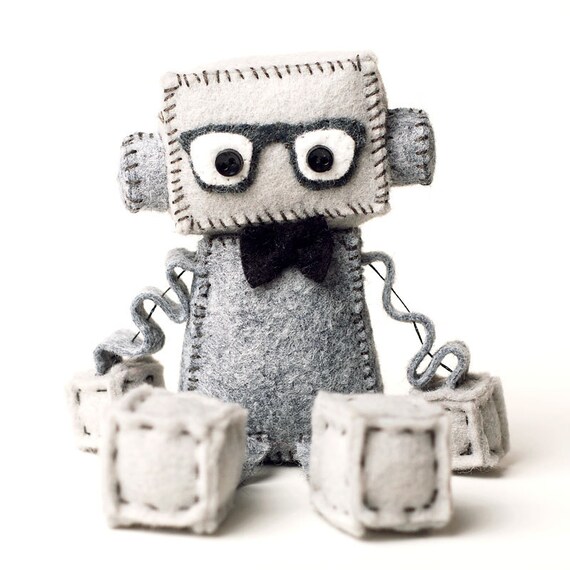 Geeky Robot Plush Toy available via GinnyPenny
This Wooden Phone Teething Toy is perfect for babies who can't keep their hands or mouths off your phone! Now they can have their own phone that they can chew to their hearts content. The toy phone is made from Canadian maple wood and is treated with non-toxic unscented beeswax polish. The designs are laser burned into the wood.
Phone Wooden Teething Toy available via 3PrincessesStore
This Fuzzy Dice Stuffed Toy makes a wonderful gift for a baby of a mathematician or accountant. Who knows, maybe you will have a math whiz in the making. The dice are available in a large variety of different colors and come in your choice of shape and even come wrapped in a cute box for gift giving.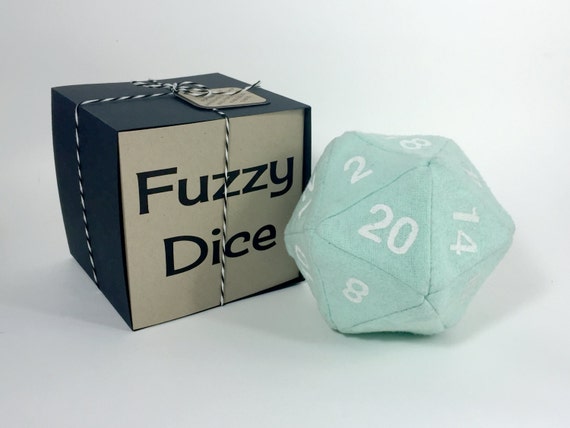 Fuzzy Dice Stuffed Toy available via 0InsideOut
Decorate the nursery of a baby with ultra cool Superhero Wall Art Prints. The set comes with 8 super hero prints of your choosing from a selection of 15 different superheros. They are printed on 5 x 7 inch photo paper and shipped via mail. The frames are not included. Browse this shop for more available superhero prints.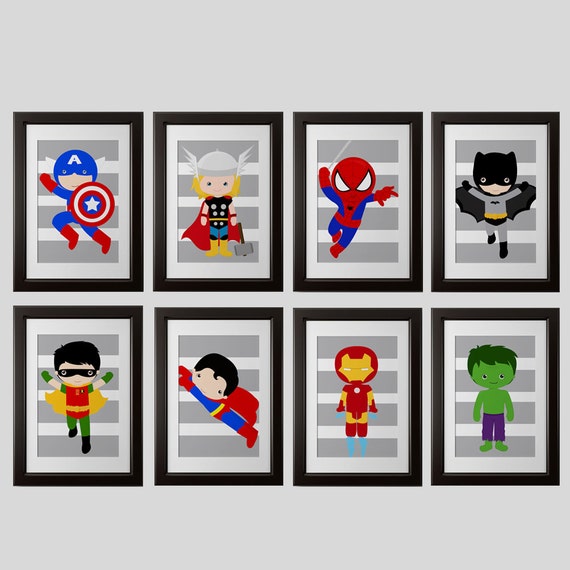 Super Hero Nursery Wall Art Prints available via AmysSimpleDesigns
What better way to keep baby warm and safe than surrounded by the universe's most powerful superheros with this Marvel Comic Book Baby Blanket. The 100% cotton blanket measures 28″ x 34″, the perfect size for using in a crib, stroller or for lounging around on the floor.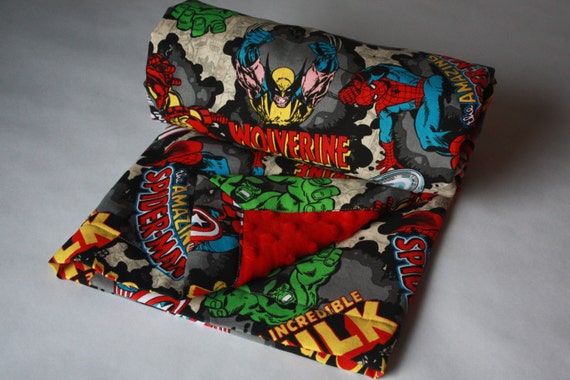 Marvel Comics Baby Blanket available via BedHogShop
You can never be too prepared while travelling through space, saving the world with baby in tow. This Doctor Who Diaper Bag carries all the essentials needed for exterminating the dirtiest of dirty diapers and for carrying snacks and milk to keep the bellies of your Whovian baby full. The bag is fitted with adjustable straps and has 5 pockets for keeping everything organized.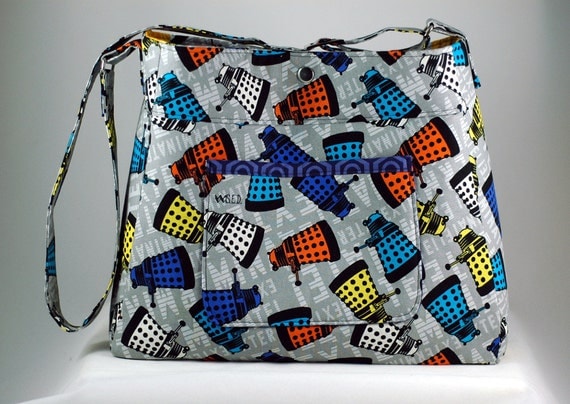 Doctor Who Diaper Bag available via StellarEvolutionD
Well, "beam me up Scotty", this Star Trek Baby Mobile would make a stellar addition to the nursery of a trekkie baby. Baby will have the dreams that are out of this world, daring "to boldly go where no man has gone before." The mobile's hand sewn felt plushies hang from a sturdy handcrafted wooden hanger ready to be hung from the ceiling.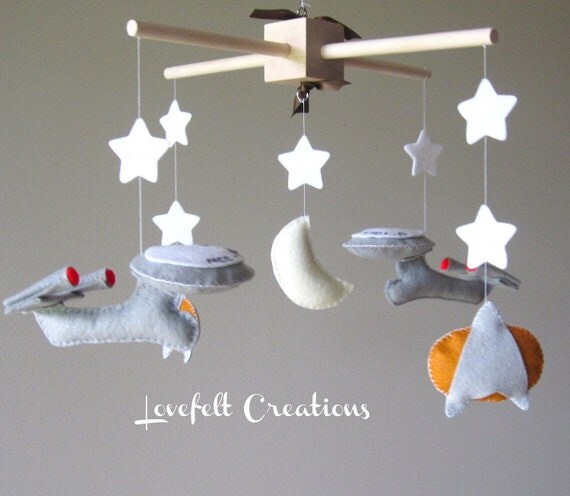 Star Trek Baby Mobile available via lovefeltmobiles
This Harry Potter Crib Bedding Set is the ultimate geek gift for muggles and wizards born to parents who are Harry Potter fans. The handmade bedding set includes a fitted sheet, rail guards, a quilted blanket and a crib skirt. Browse their shop for more geeky crib bedding. Looking for a different Harry Potter character? They welcome custom orders!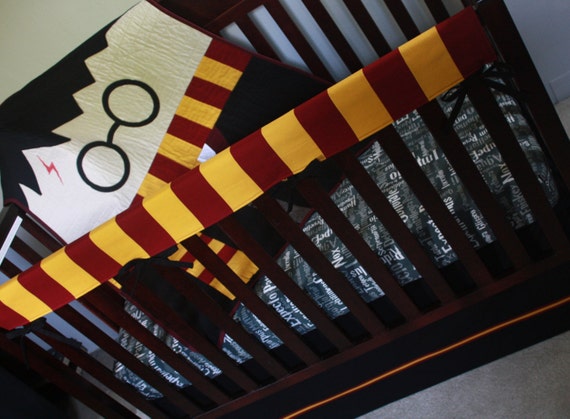 Harry Potter Baby Crib Bedding available via BedHogShop
Geekiness couldn't be any cuter than these adorable Ewok Baby Leg Warmers. They are perfect for keeping little legs warm on cooler days or for protecting their legs when crawling around or hanging out in the baby carrier.  Browse this shop for more Star Wars designs and other geeky leg warmers.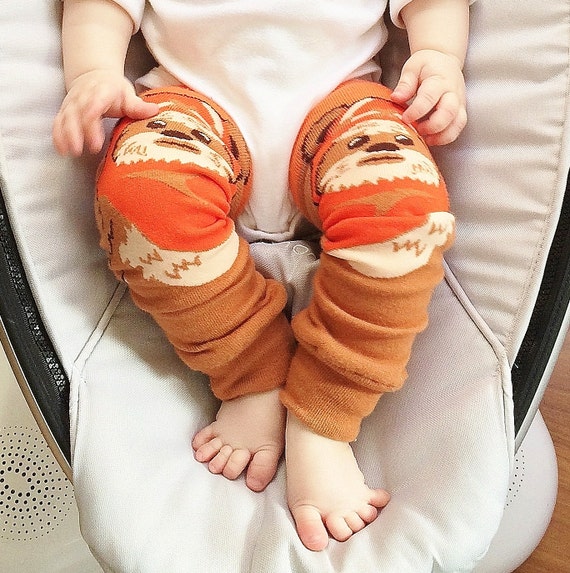 Ewok Leg Warmers For Babies available via TheFashionWhisperer
This collections of Printable Star Wars Wall Art is perfect for decorating the nursery of a future jedi in training or stormtrooper. Choose from a large variety of colors, select the size you would like and then print at home or a photo center. Pick up some inexpensive frames to make this a budget friendly gift that is out of this world.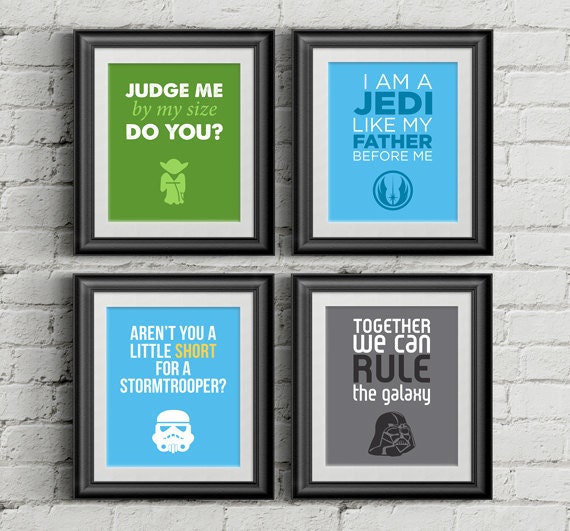 Star Wars Printable Nursery Wall Art available via printablePOP
This life-sized Yoda Security Blanket Wrap is the ultimate geekery gift idea for babies born to fans of Star Wars. Wrap baby up in this soft, minky blanket for the most adorable Yoda baby ever! The blanket has taggy finger and toes made from ribbon that babies will enjoy exploring with their own hands.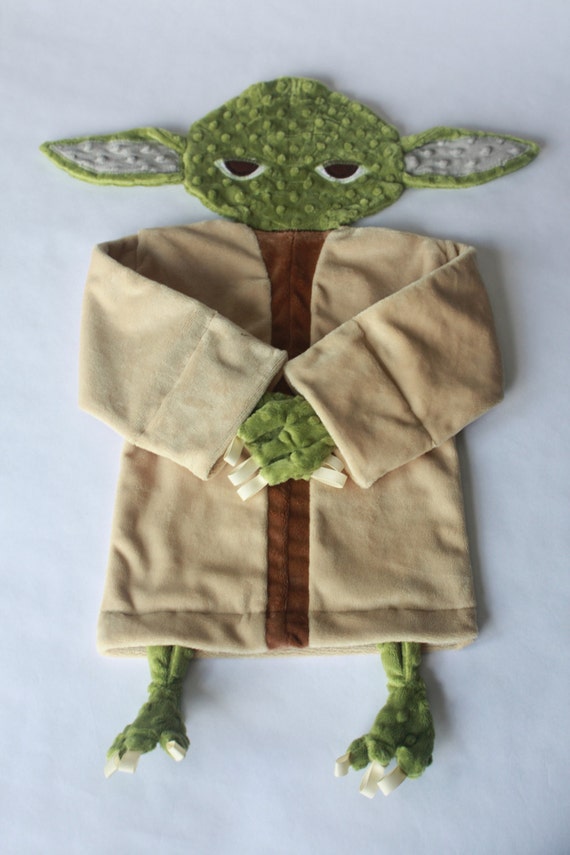 Yoda Security Blanket available via BedHogShop
Babies can fight evil and save the world with these Teenage Mutant Ninja Turtles Stuffed Toys by their side. Choose from Raphael, Donatello, Michelangelo, Leonardo or all 4 ninja warriors. Browse their shop for more geeky plush toys.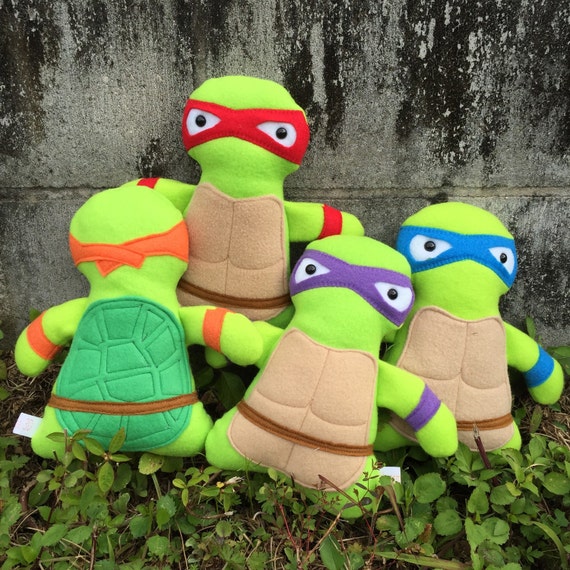 Teenage Mutant Ninja Turtle Stuffed Toys available via Handmade3D
Baby photo props make a wonderful gift idea for new babies. Moms and dads love dressing their new arrivals up in cute outfits and photographing them to share with friends and family. I don't think it can get any cuter than a sweet marshmallow baby bundled up in this Stay Puft Ghostbuster Sleep Sack And Hat.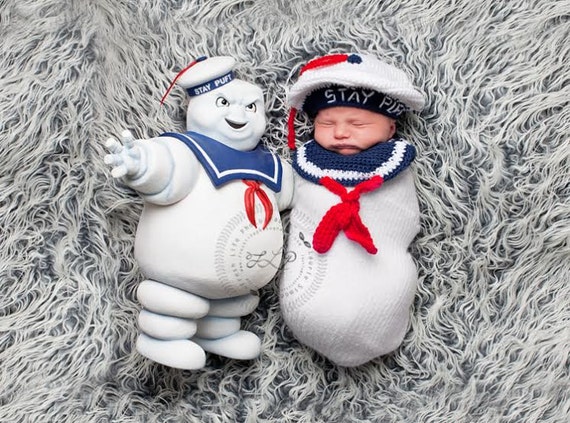 Ghostbusters Photo Prop Set available via craftykittycrochet
If your baby was born to fight zombies, then this Walking Dead Teething Blanket is the perfect gift for little ankle biters and Quislings to snuggle and chew on instead of you! The blanket is made from soft, minky fabric and has a detachable wooden teething ring that is attached to the blanket with a child-safe snap.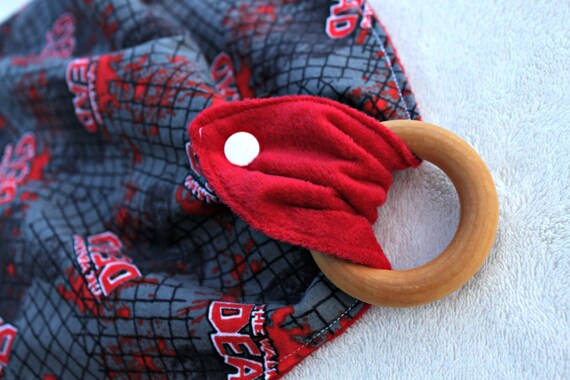 Walking Dead Teething Minky Blanket available via MakingsOfAMama
This soft Video Game Controller Stuffed Toy is the perfect gift for a baby who has video game geeks for parents. Baby will be a gamer in no time! The toy is made from soft, fleece material and the details of the controller are embroidered onto the toy, making it safe for babies. Available in a variety of colors.
Video Game Controller Stuffed Toy available via AnnsCraftHouse
Chomp chomp… these retro Pac Man Grow With Me Pants are perfect for a future video game geek. The pants fit comfortably over diapers, even cloth ones, and the wide band prevents the pants from slipping down. The legs of the pants unfold to accommodate a growing baby up to about a year.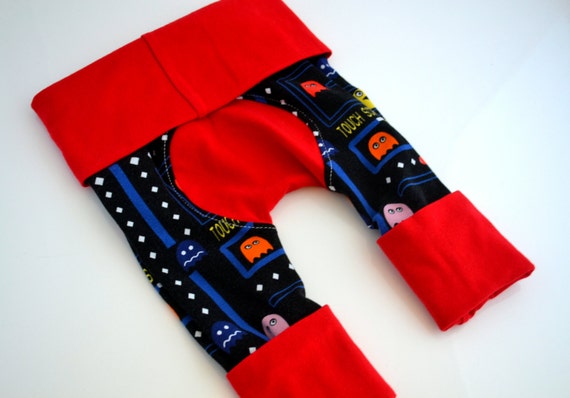 Pac-Man Grow With Me Baby Pants available via Zookaboo
Turn potty training into a game! This printable 18″ x 24″ poster Mario Kart Potty Training Game is a great gift idea for older babies who are learning to use the potty. It aims to make potty training for both babies and parents a little more fun, especially for stubborn little tots. The object of the game is to get to the finish line. Toddlers race around the track, advancing their character with each potty success.When they pass a mystery box, they get a reward. How fun!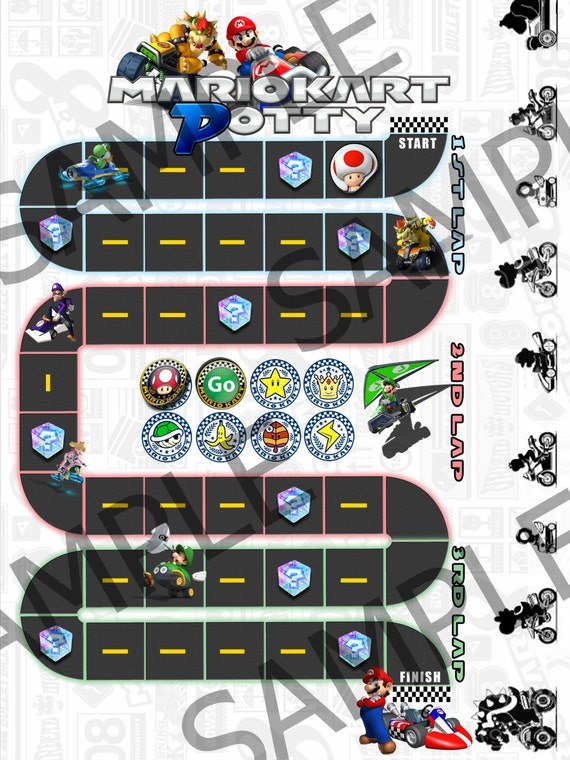 Mario Cart Potty Training Chart available via LiveGeek
These Super Mario Brothers Car Seat Toys make a great gift for future video game geeks. Babies will love playing with this set of 5 colorful felt characters – Mushroom, Blooper, Fire Flower, Star, and Goomba. They are attached to a length of ribbon lined with velcro for attaching to a car seat or activity center.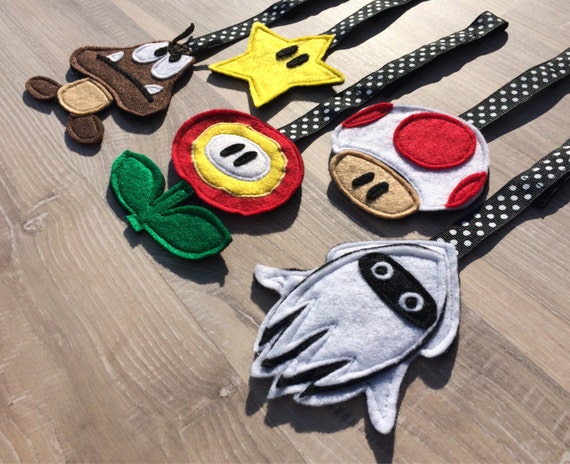 Super Mario Brothers Car Seat Toys available via JessicaHippDesigns
Babies love playing with balls. These soft Geeky Rattle Spheres are perfect for curious hands and exploring mouths. The balls are made from 100% cotton and have little ribbon tags sewn into the seams to make them more interesting and to help develop eye hand co-ordination. Choose from a variety of geeky designs.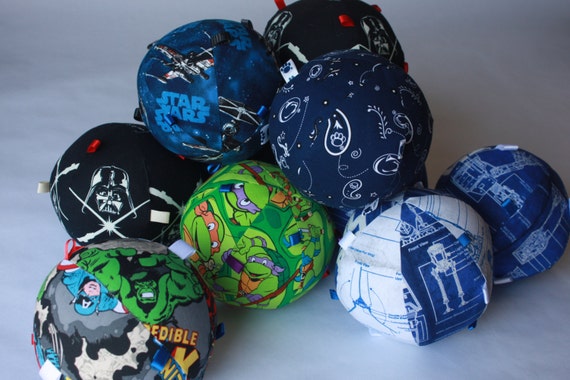 Sensory Spheres Rattle Toy available via BedHogShop
Geeky Onesies For Baby
With so many cute, geek themed onesies for babies, it was hard to choose just one, so I decided to feature a whole bunch for your geeky pleasure. Enjoy!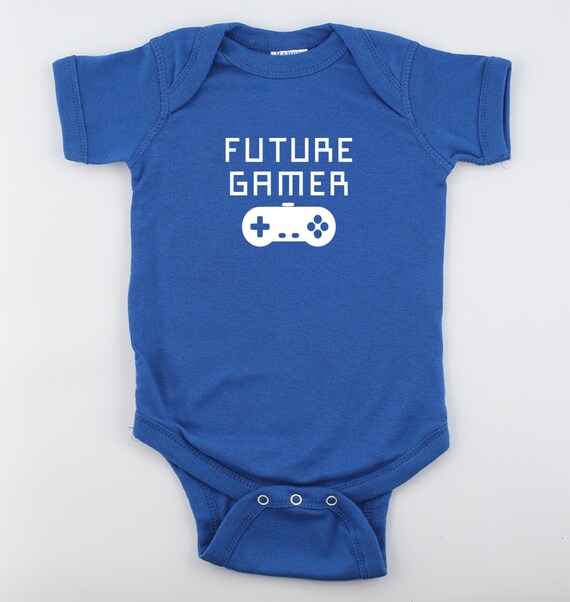 Future Gamer Onesie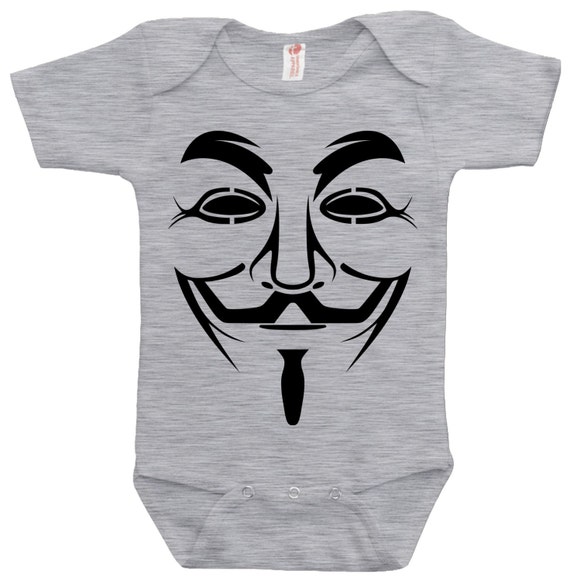 Anonymous Mask Bodysuit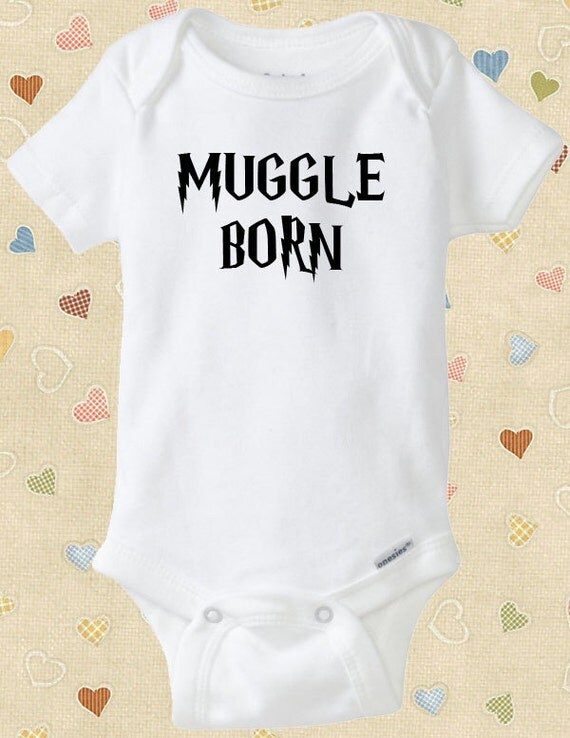 Muggle Born Onesie

I ATE SoME PI and It Was Delicious Bodysuit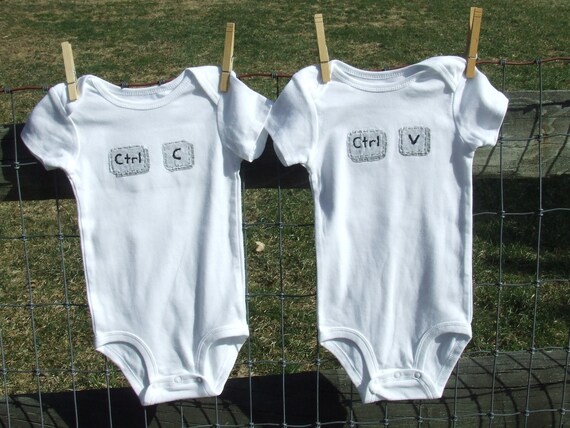 Copy & Paste Twin Onesies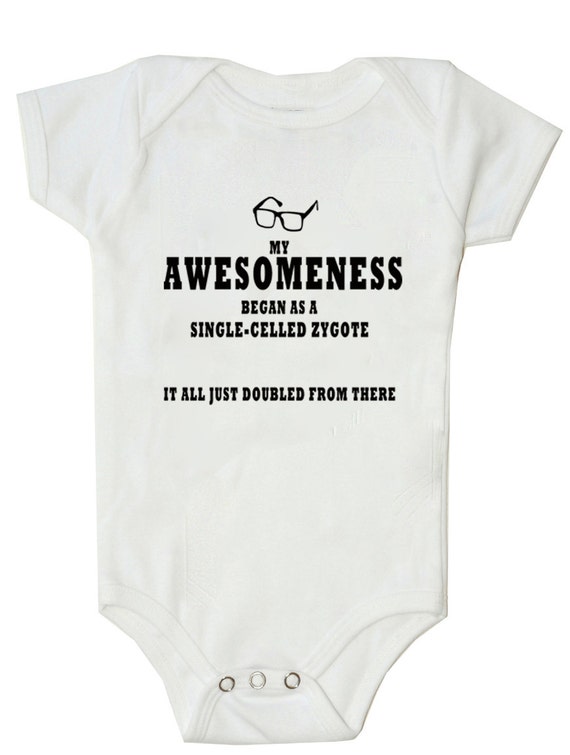 Nerdy Science Onesie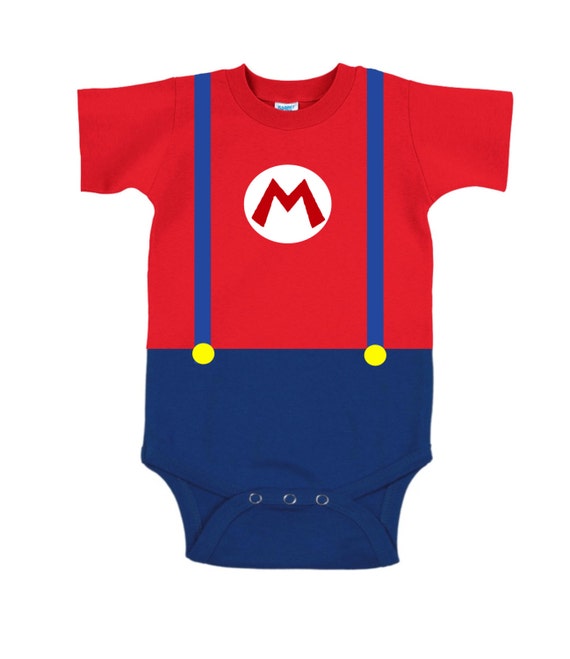 Super Mario Brothers Onesie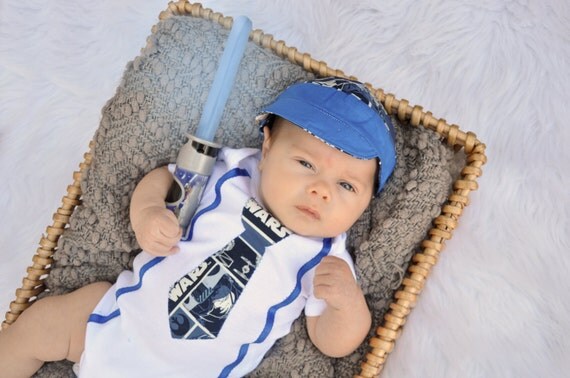 Star Wars Bodysuit & Hat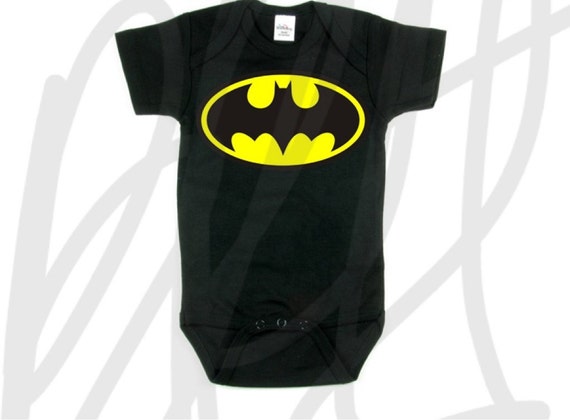 Batman Onesie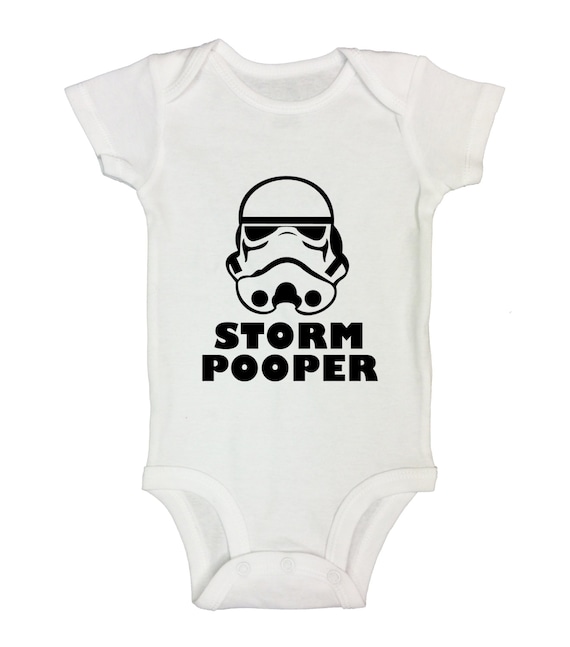 Stormpooper Onesie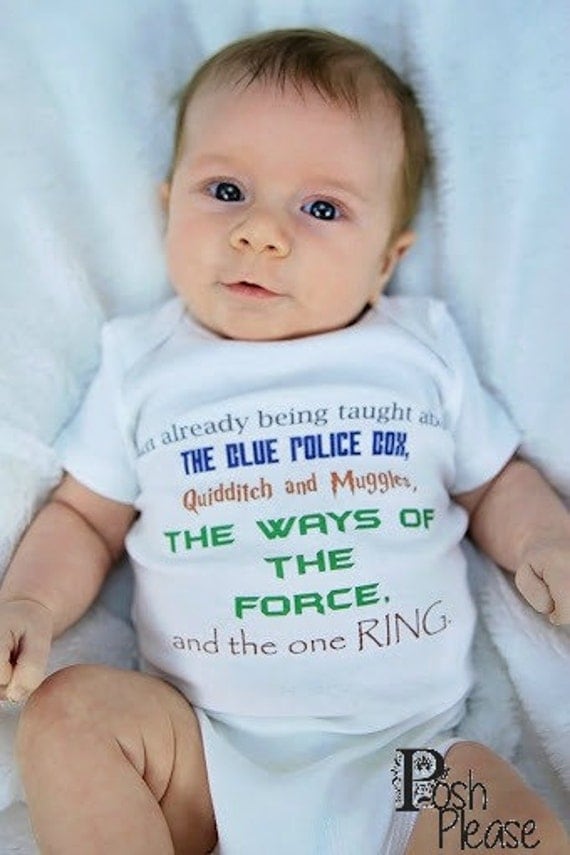 Nerdy Baby Bodysuit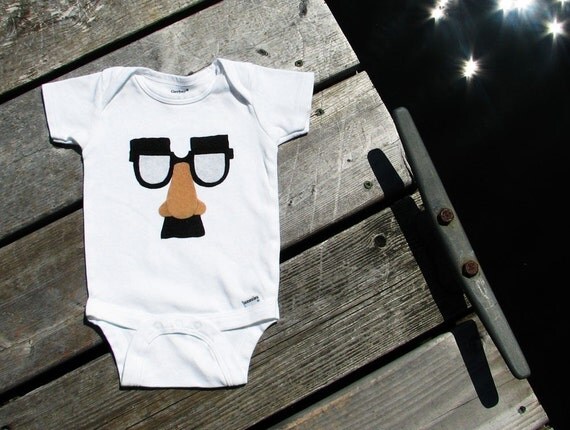 Grouch Baby Onesie

&
Thanks for stopping by and I hope you found this selection of adorkable geek gift ideas for babies helpful and inspiring!
Connect With Me On…