This post may contain affiliate links. Please read my full disclosure
here
. This site uses cookies to provide a better user experience. See more about my privacy & cookies policy
here
.
glitternspice.com is a participant in the Amazon Services LLC Associates Program, an affiliate advertising program designed to provide a means for sites to earn advertising fees by advertising and linking to amazon.com.
(Last Updated On: July 25, 2018)
25 Handmade Decor Ideas For Decorating A Beach House
Whether you are heading to your beach or lake house for the summer or just want to bring the beach to your home, here are 25 fresh and beautiful handmade decor ideas for decorating a beach house that will turn your home into a relaxing, coastal-inspired oasis.
Celebrating Christmas at the beach?
Check Out These Beach Themed Christmas Decorations
All the items featured below are unique and lovingly handmade by individual artists and craftsmen throughout North America and can be purchased via Etsy.
Salt Water Blue Wooden Cribbage Table
This coastal inspired handcrafted saltwater blue cribbage table makes a wonderful addition to any summer home or cottage. This is a perfect gift for people who love to spend their summer days relaxing poolside or outside on the deck playing cards with friends or family.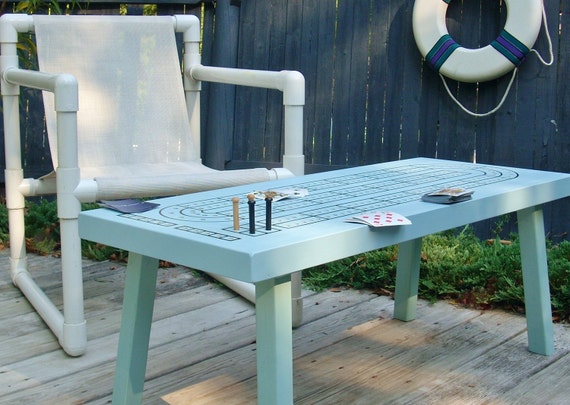 Saltwater Blue Cribbage Board available via TheRightJack on Etsy
Click here to view more cribbage board tables!
Personalized Family Name Beach House Sign
Add a welcoming touch to the front entrance or porch of a beach house with a personalized family sign. This made-for-you wooden sign is painted antique white and is heavily distressed to give it an aged, vintage look.
This would make a wonderful gift for new beach homeowners or newlyweds.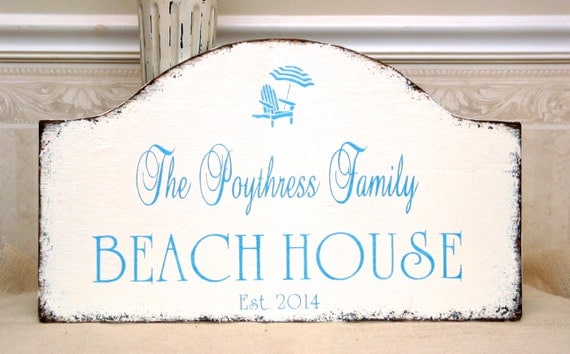 Personalized Family Beach Sign available via SignsByDiane on Etsy
Whale Planter
This unique biodegradable plastic whale planter is perfect for decorating a beach house and adds a whimsical touch to any room. The top of the head of the whale is designed to hold a succulent or cactus plant. You can also use it as a catch-all for keys, loose change and other odds 'n' ends.
The whale planter is available in 3 sizes and 13 colors.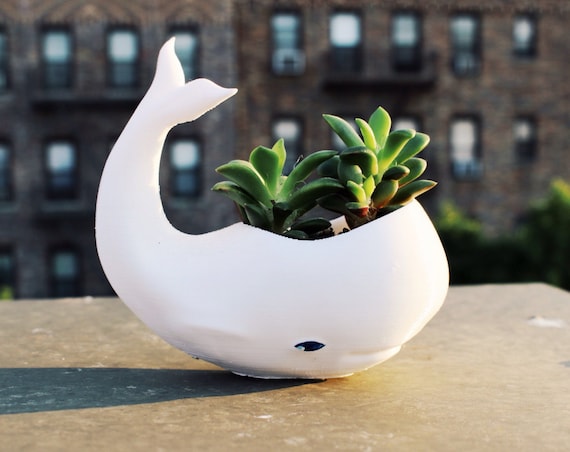 Whale Planter available via Meow3DStore
Metal Bicycle Wall Art
Summer is a time for flip-flops, relaxation and casual bike rides in cool, evening breezes. This hand-painted metal bicycle decor piece is perfect for displaying on the mantel or wall of a summer cottage or beach house. The bicycle is slightly distressed to give it a retro vibe and is available in lots of different colors to match your home's decor.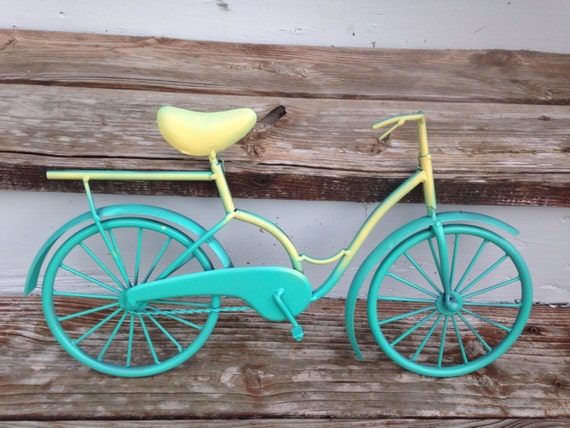 Metal Bicycle Wall Art is available via LaBellasCottage
Wooden Vintage Lobster Buoys
These reclaimed wooden lobster buoys make unique, one-of-a-kind decorations for a beach house or cabin. They are original lobster buoys that have been used in the past by fishermen that have been salvaged and repainted.
These would make wonderful gifts for an avid fisherman or as a Father's day present.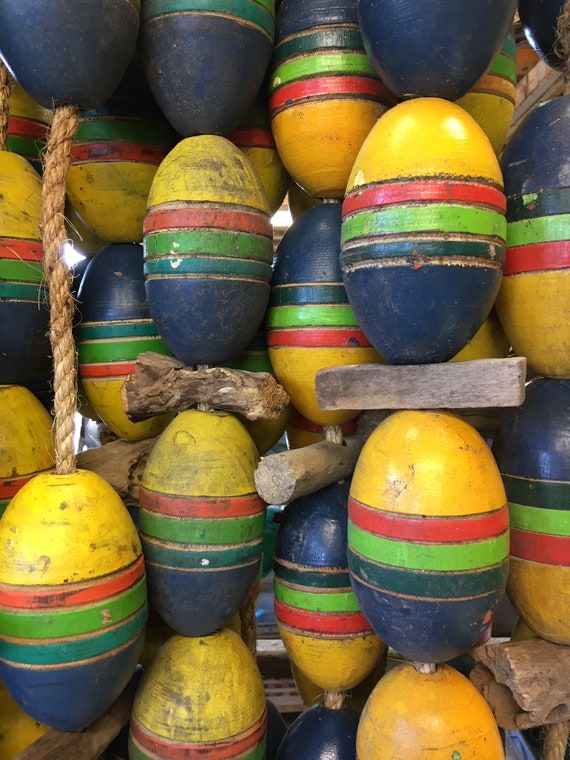 Wooden Lobster Buoys are available via SEASTYLE on Etsy
Cast Iron Nautical Book Ends
These cast iron nautical book ends look gorgeous displayed on a bookshelf in a home office, library or living room. The heavy bookends are perfect for holding your collection of books upright, while at the same time, they are a stunning accent piece that adds a nautical touch to the room.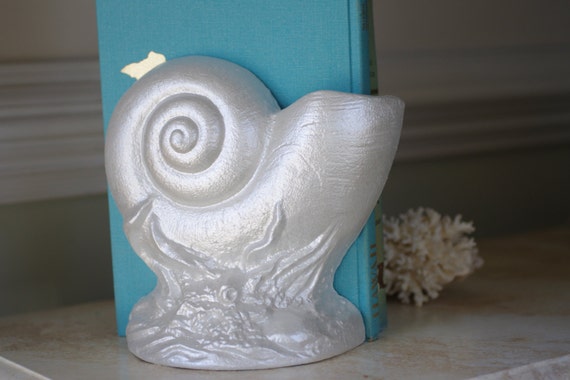 Cast Iron Nautical Book Ends available via ByTheSeashoreDecor
Gone Fishing Wood Doormat
These wooden beach house doormats are constructed from wood, all-purpose rope, and stainless steel nuts, and stained. They are sealed with a polyurethane finish to protect the mats from wear.
These beach-inspired doormats are perfect for storing sandy or wet flip flops.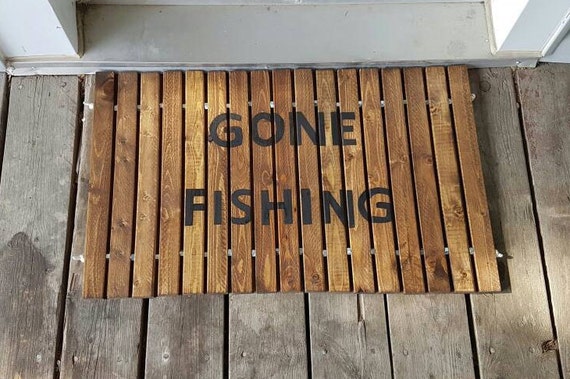 Gone Fishing Wood Doormat available via JulieEvesWoodworking
Starfish Side Table
This beautifully handcrafted starfish side table makes a wonderful addition to a beach house or cottage. This coastal inspired table is slightly distressed for a vintage, shabby chic feel and can be painted a color of your choice to match your room's color scheme.
It is the perfect size for a reading nook or as a bedside table.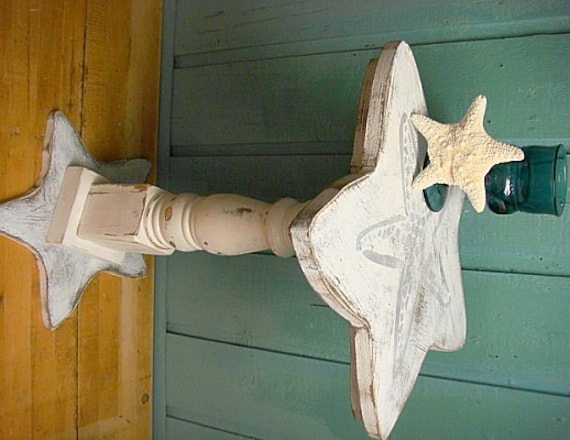 Starfish Side Table available via CastawaysHall on Etsy
Rustic Beach House Clock
Bring the outdoors inside your home with this rustic beach inspired wood pallet clock. Every clock is unique and is made from only the best pieces of pallet wood, all handpicked for durability and visual attractiveness.
A rustic wood pallet clock is the perfect accent to compliment your beach or coastal decor.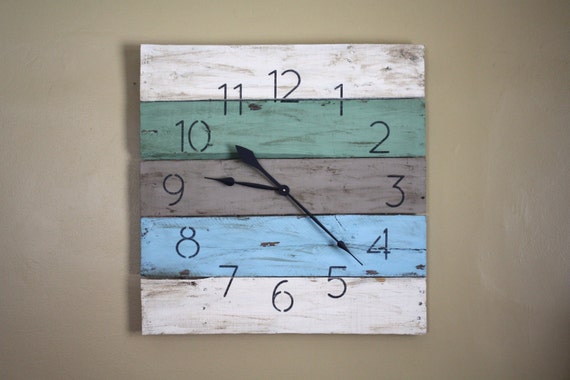 Rustic Beach House Wood Pallet Wood Clock available via terrafirma79 
Blue And Cream Octopus Prints
These nautical inspired octopus prints would look wonderful hanging in the bathroom of a beach house or cabana. They are printed on acid-free fine art paper with bright and bold, high-quality inks.
All you need to do is mount or frame them to turn them into a beautiful statement piece.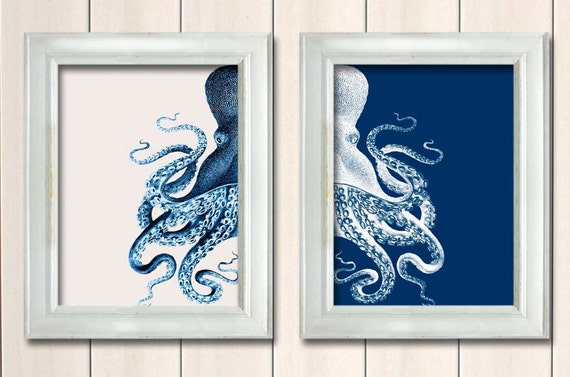 Blue And Cream Octopus Prints available via NauticalNell on Etsy
Cast Iron Sand Dollar Wall Hook
These cast iron sand dollar wall hooks would look beautiful in a coastal themed bathroom or pool house. The cast iron wall hooks are all hand painted and treated to minimize the risk of rusting and for maximum durability.
They have 20 different colors to choose from to match the decor of any color room.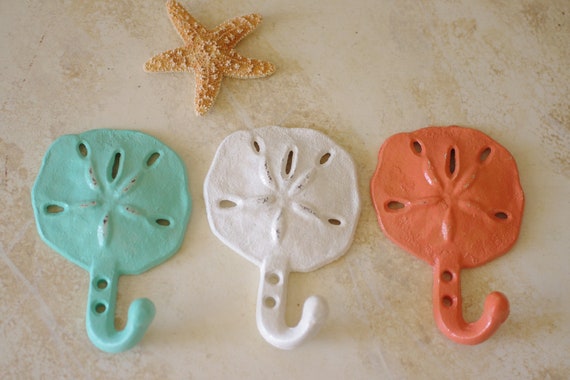 Cast Iron Sanddollar Wall Hook available via ByTheSeashoreDecor on Etsy
Coastal Inspired Crate Trunk Table
This handcrafted coastal inspired crate trunk table would look gorgeous in any room. It is multi-functional too! It can be used for storage, as an extra seat or as a side table.
They are distressed to give them a vintage feel and come with a hand painted design of either a crab, starfish or clam shell. The crate comes with a metal hinged lid and is fastened by large twine rope.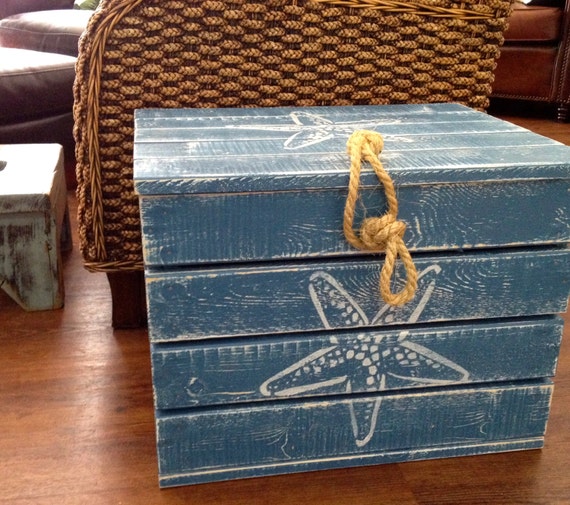 Crate Side Table Treasure Chest Trunk available via CastawaysHall on Etsy.
Beach House Wooden Serving Tray
This starfish distressed wood tray has an antiqued, vintage look that would look lovely in a kitchen, dining room, guest bathroom or pool cabana. It is a beautiful statement piece that is functional too.
It is perfect for serving snacks and drinks while sitting poolside. Or it can be a catchall for keys, sunglasses and such too.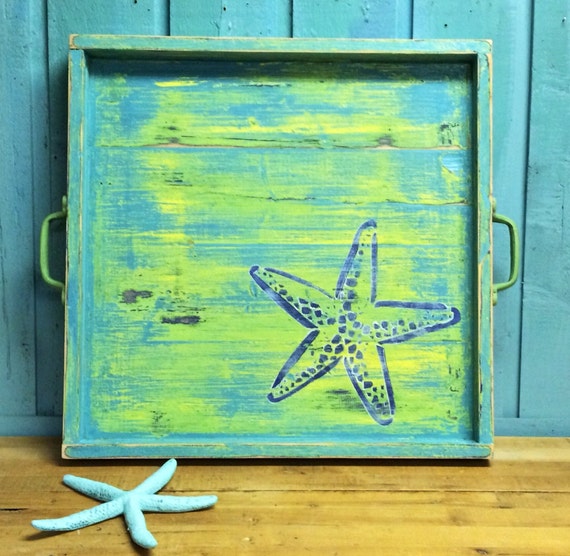 Beach House Wooden Serving Tray available via CastawaysHall on Etsy
Waves Headboard – Queen Size
Bring the ocean to your bedroom with this gorgeous coastal inspired wave headboard. They are lovingly handcrafted in beautiful BC, Canada and are made to order with your choice of colors and size. They are available in queen, double and twin size. The headboards come with the hardware to either hang it from or attach it to the wall.
These would look dreamy in a master or guest bedroom and is a piece that will be admired and talked about for a long time.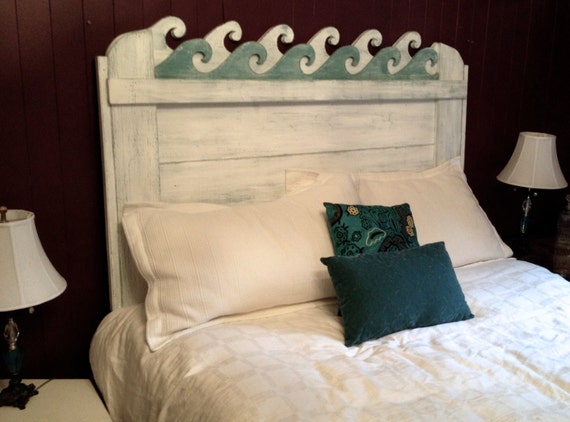 Waves Headboard available via CastawaysHall on Etsy
Beach Fence Hook Coat Rack
Maximize the space in your beach house or cottage with a coat rack inspired by old slat beach fences. The wooden slats are hand painted in nautical paint tones and then distressed to give it a vintage, coastal feel.
The rack comes with 4 large hooks perfect for hanging coats or beach towels.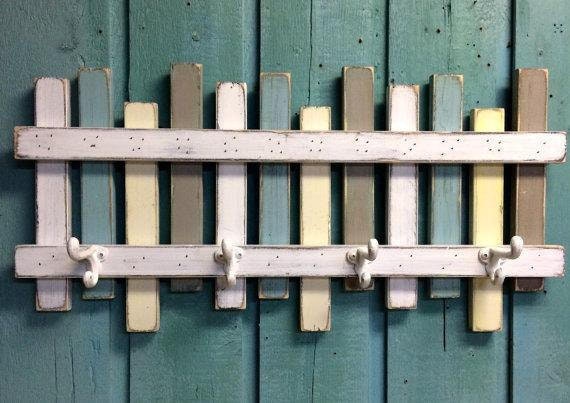 Shabby Chic Wood Coat Rack available via CastawaysHall
Cape Cod Style Hand Painted Stool
This hand-painted Cape Cod stool would look darling in a Cape Cod or coastal themed kitchen, bathroom or children's bedroom. The stool is crafted from pine wood and is lovingly hand-painted with a beautiful Cape Code beach scene that makes it a fun and cute accent for a summer home.
These make lovely gifts for just about everyone from young to old.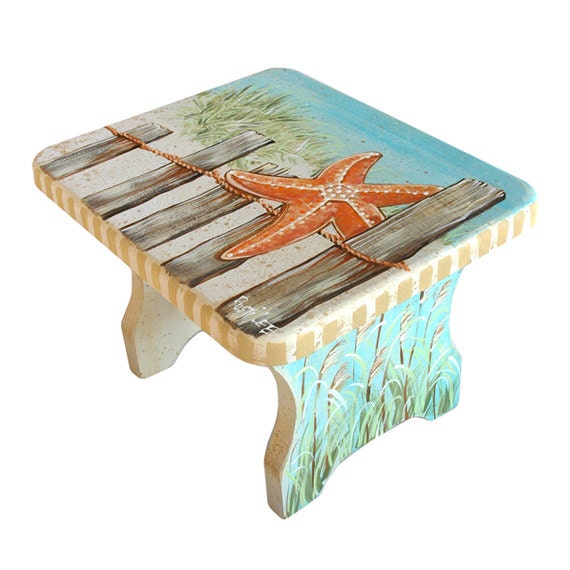 Cape Cod Style Hand Painted Stool available via RustiLee on Etsy
Kid's Beach Wall Art
Looking for some fun, beach-inspired wall art for decorating a kid's room? Here are 3 bright and bold stretched canvas prints that bring the wonders of the ocean into the bedroom.
They are printed using high-quality inks and are treated with a clear protective finish to make them more durable and to prevent them from wearing, which is perfect for a kid's bedroom. The distressed wood background gives these a vintage appearance, but they are actually printed on cotton canvas.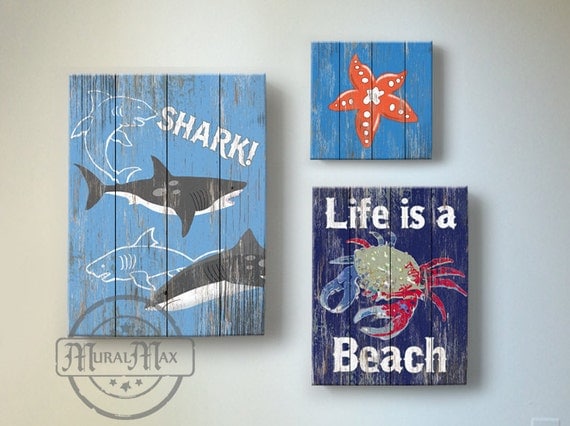 Kid's Beach Wall Art available via on Etsy
Antique Silver Spoons Fish Wind Chime
This gorgeous wind chime made from antique silver spoons, some dating back as earlier as the 1700's, makes a beautiful decorative piece that is rich with history for hanging on your front porch. The spoons look like a school of little fish.
These wind chimes would make a wonderful gift for someone who loves to fish or lives by the seaside.
 Antique Silver Spoons Fish Wind Chime available via NevaStarr
Custom Hand Painted Beach Scene Mailbox
This beautiful hand-painted mailbox would look gorgeous perched in the sand in front of a beach house or summer cottage. They come personalized with your house number and can be custom made to replicate a beach scene of your choice.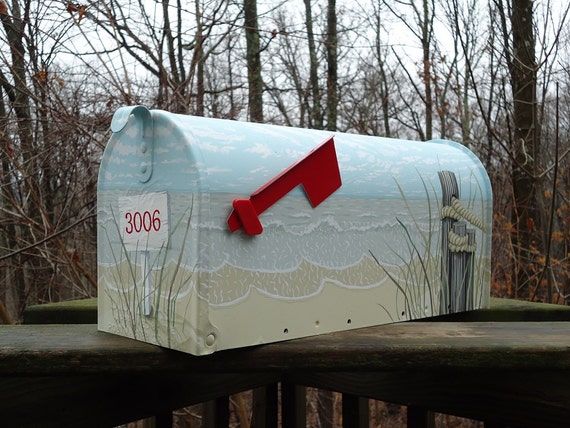 Hand Painted Mailbox available via PatMcWhorter on Etsy.
Sea Urchin Shell Planter
If you love plants, but plants don't love your lack of a green thumb so much, decorating your home with air plants may be the way to go. They don't require soil to grow, only needing to soak in water once a week.
This decorative sea urchin shell planter that is the perfect addition to a beach house. Comes with or without an air plant. These make wonderful gifts or can be given to guests as a wedding favor.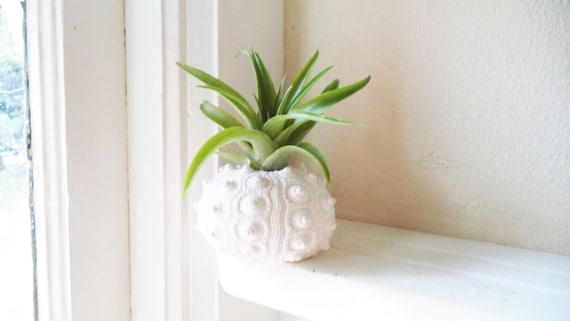 Sea Urchin Shell Planter available via RedwoodStoneworks
Personalized Metal Anchor Sign
A personalized family name anchor sign is the perfect touch for decorating a beach house. Cut from metal, and either powder coated or galvanized, this anchor sign makes a unique family keepsake for hanging in your beach house. The sign is available in 4 sizes and 5 colors.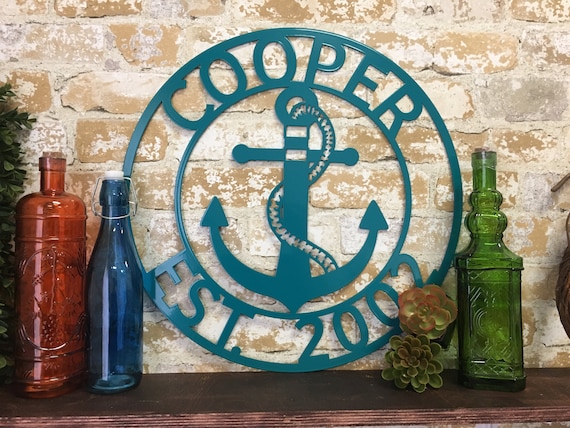 Personalized Nautical Anchor Sign available via MetalUnlimited
Mermaid Coffee Mug
A beach house kitchen wouldn't be complete without a mermaid coffee mug! This cute ceramic mug is hand painted, glazed and kiln-fired. The mug holds 16oz of liquid and is available in colors. This mug is perfect for sipping your morning coffee while sitting on your veranda overlooking the ocean.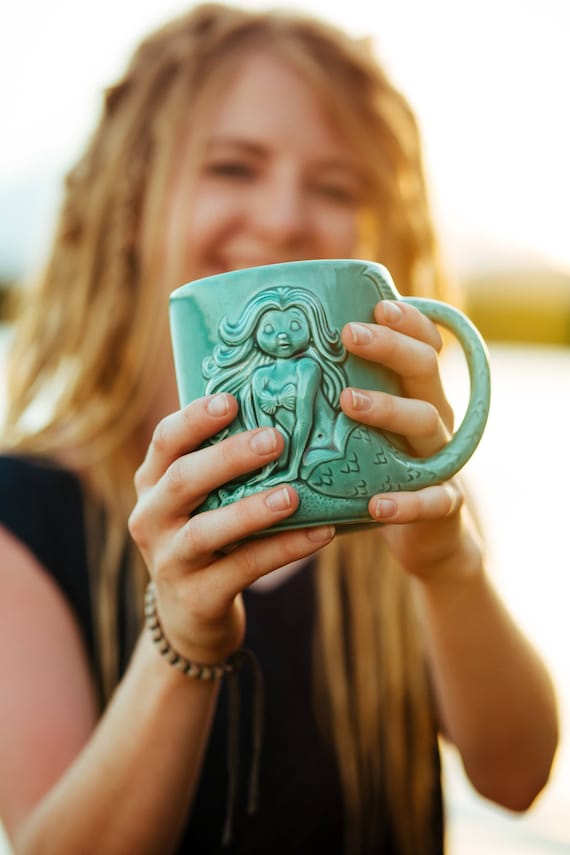 Mermaid Coffee Mug available via CreativityHappens
Great Lakes Map Wooden Paddle
Bring a piece of history to your beach home with this beautiful vintage Great Lakes map paddle! These make a gorgeous feature statement hung on a wall in a living room, den, or bathroom. The square-tipped paddle measures 48″ in length and is covered by a 1755 french map of the Great Lakes.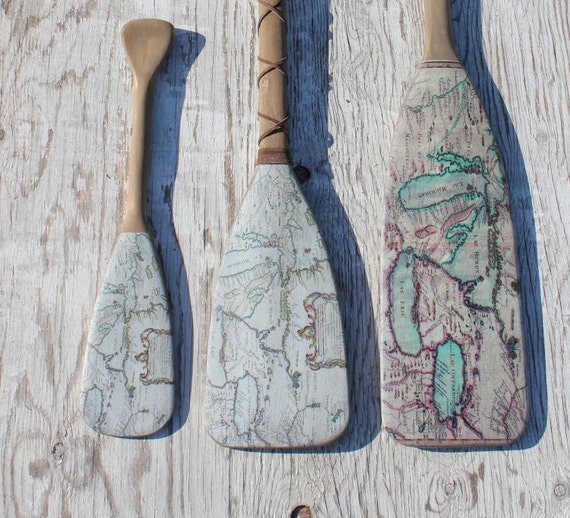 Great Lakes Map Wooden Oar available via GeorgianBayTackle
Lobster Burlap Feed Sack Door Stop
Keep your doors from slamming shut on breezy days with this burlap feed sack doorstop featuring a vintage lobster. Each burlap sack is painted with a stenciled lobster and is filled with 4 pounds of sand. The sacks come pre-filled and ready for you to use. These look cute resting against inside doors too!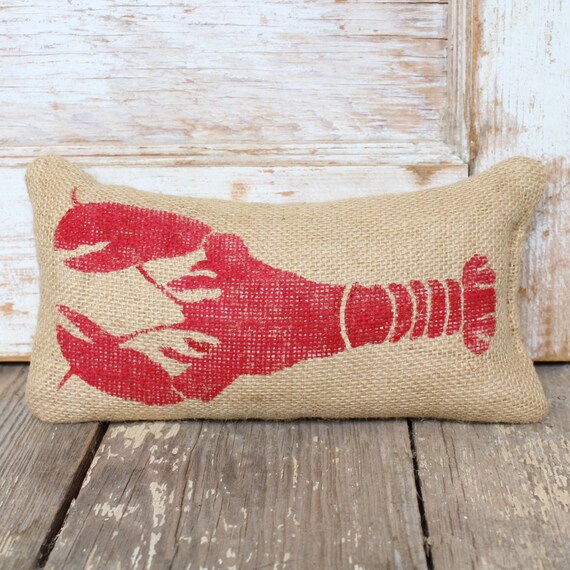 Lobster Burlap Feed Sack Doorstop available via nextdoortoheaven
Life's A Beach Concrete Scallop Stones
Decorate a garden or walkway with these Life's A Beach concrete scallop stones. Each stone is handpainted with patio paint which stands up to all kinds of weather conditions. These slightly curved scalloped stones can also be used indoors as doorstops.
Life's A Beach Concrete Scallop Stones available via SunburstOutdoorDecor
Tiki Mask Surfboard Wall Decoration
Decorating a beach house just got cuter with this Tiki mask surfboard wall decoration! Each Tiki surfboard is hand-carved and handpainted using reclaimed wood and no two are the same. These would make an especially unique gift for a surfer!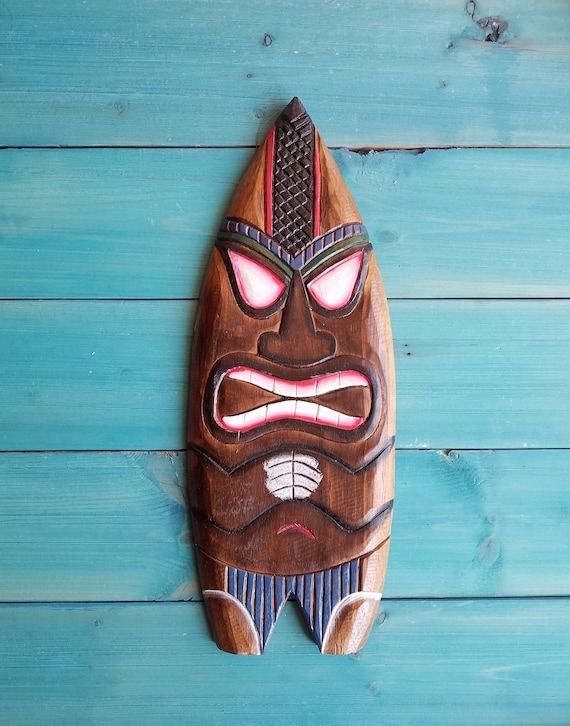 Tiki Mask Surfboard Wall Decoration available via DCPalletDesigns
More Ideas For Decorating A Beach House
Beach Themed Christmas Decorations
DID YOU LIKE THIS POST? PIN IT FOR LATER!