This post may contain affiliate links. Please read my full disclosure
here
. This site uses cookies to provide a better user experience. See more about my privacy & cookies policy
here
.
glitternspice.com is a participant in the Amazon Services LLC Associates Program, an affiliate advertising program designed to provide a means for sites to earn advertising fees by advertising and linking to amazon.com.
(Last Updated On: June 28, 2018)
'Tis the season for bonfires, s'mores and backyard fun! I put together some fun ideas for a S'mores And Bonfire Backyard Party that are perfect for children, family and adult parties including Halloween parties, pumpkin carving parties, harvest parties, neighborhood block Fall parties, bachelor parties, anniversary parties, couples showers and birthday parties. There are lots of ideas that are perfect for people of all ages, as well as ideas that are just for adults.
Plan Your S'mores And Bonfire Backyard Party
The key to a successful party is planning and organization! In the weeks leading up to your party, there are lots of details to iron out. Doing as much as possible in advance will make your party more successful than leaving everything to the last minute. Your guests will enjoy themselves much more if they can visit with you, the host, instead of watching you running around because of ill preparation.
Here are a few things to think about and some questions to ask yourself before you get started:
Outdoor parties can be tricky to pull off because you have no control over the weather. Do you have a back up plan if the weather is not co-operative? If your party is contingent on the weather, it is a good idea to communicate that with your guests ahead of time. Even if your party is come rain or shine, guests should still be informed to avoid any confusion on party day and they can come dressed appropriately. You can still throw a great party in the rain with strategically placed tarps and party tents, but you need to be well prepared.
Are you allowed to have a bonfire in your yard or party location? Check your city's bylaws for open burning regulations and noise curfews before you get to far ahead into your planning.
Will there be music? Are you using a stereo system and speakers, hiring a band or encouraging guests to bring their own guitars and musical instruments for a sing-along around the fire?
What bathroom are you going to allow guests to use? Do you need to rent a portable toilet? This is generally not an issue if you are inviting friends and family over, but if you are throwing a party and inviting people who you consider acquaintances, then you may not be as comfortable with people tromping through your house unattended or if it is muddy outside.
Where is everyone going to sit? Are you going to provide the seating or do you want people to bring their own chair? How are you going to set up the food and drinks? How many tables do you need?
Are you going to serve alcohol? If yes, are you going to provide the booze or do you want people to BYOB? Can people pitch a tent or park their motorhome in your yard if you plan on serving alcohol? Do you have a sober driver available if people drink too much and are unable to drive?
Is there going to be food served at your party besides s'mores? Are you going to provide the food or do you want people to bring a dish? What kind of tableware and flatware do you need?
Are kids welcome? What kinds of activities do you have planned to keep the kids busy and happy?
Do you use a planner? These super cute Bonfire and S'mores Printable Fall Planner Stickers are perfect for decorating your vertical planner and keeping your party planning on track.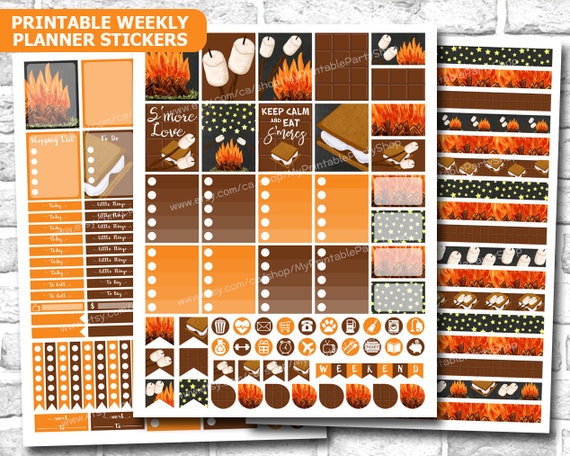 S'mores And Bonfire Fall Planner Stickers

&
Send Out Your Party Invites
Every party needs some guests. It is best to invite your guests three to six weeks before your party. People's schedules fill up quickly with family and work obligations, so give them plenty of notice to make arrangements. Impress your guests with one of these Personalized Printable S'mores and Bonfire Party Invitations that look like they cost you a fortune, but actually cost very little.
These printable bonfire backyard party invites are available for order in my Etsy shop and are super easy to order! Add the invite of your choice to your cart, choose your file format, add your party details in the notes to seller box and checkout. Within 48 hours, you will receive a proof of your invite for you to preview. The final copies will sent to your email after you approve the proof, ready for you to print on a home printer, or at a photo lab or print shop.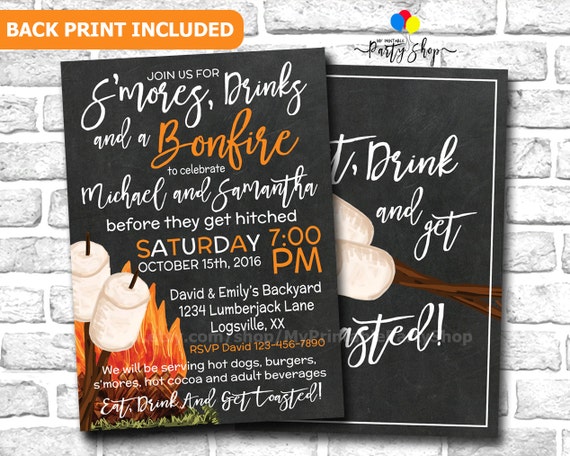 Eat, Drink And Get Toasted Invitation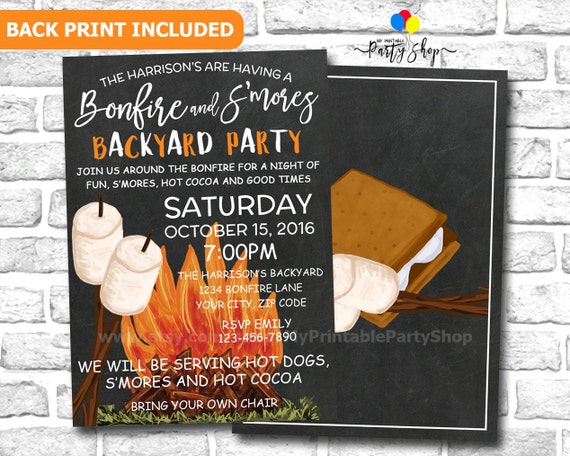 S'mores & Bonfire Party Invitation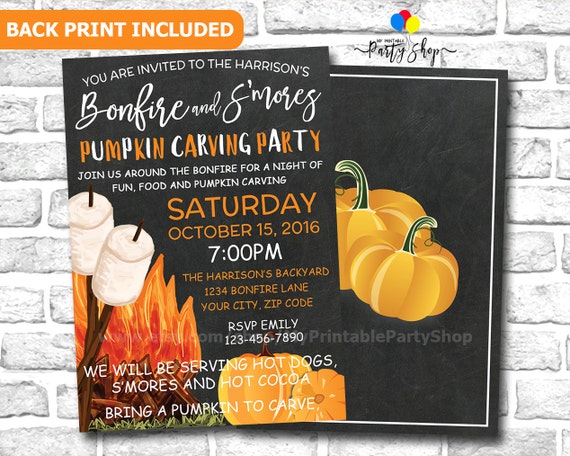 Pumpkin Carving Party Invitation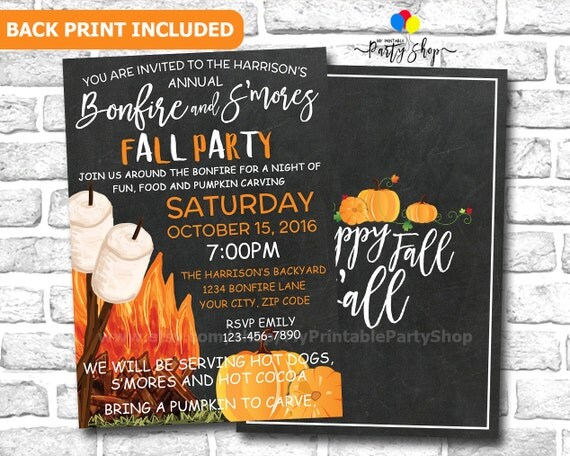 Fall Party Invitation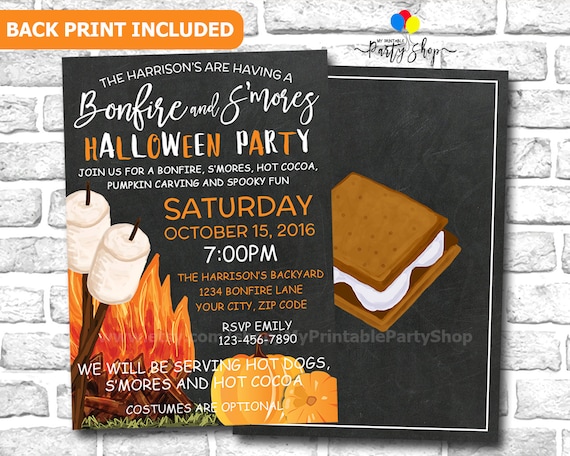 Outdoor Halloween Party Invitation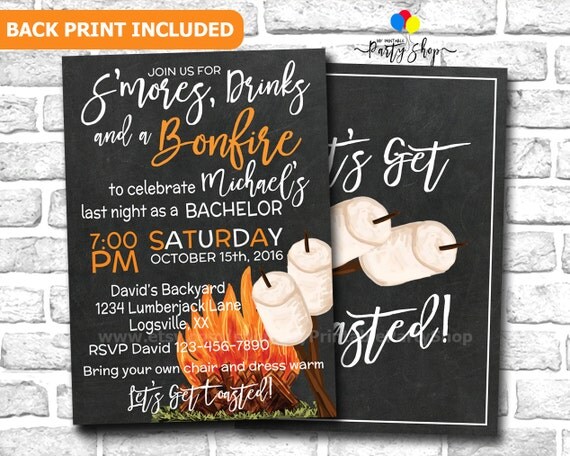 Let's Get Toasted Invitation

&
Prepare Your Fire Pit A Couple Of Days Ahead Of Time
The first thing you should do before you get started building your fire pit is to check with your city's bylaws and open burning regulations. You may need a permit. Nothing ruins a great party more than the fire department showing up to issue you a big fat fine!
Choose an area that is not near any trees or shrubbery and clear the ground of debris such as loose sticks, rocks, grass and kid's toys. Build your fire pit directly on the ground using large rocks, bricks or stones in the shape of a ring or use a fire pit bowl if you want to protect the surface of the ground. Fire pit bowls are great for using in landscaped yards and on cement patios.
Rectangle Fire Pit With Screen Cover
Round Cast Iron Copper Finish Fire Pit with Screen
Rustic Cast Iron Wood Burning Fire Pit Bowl
Keep some buckets and hose attached to a water source close by, but not laying in area where someone may trip over them. At the end of the night, douse your fire with water until it is completely out, breaking up the coals and wood as you do so. Coals can stay hot and re-ignite even after the flames of a fire are out.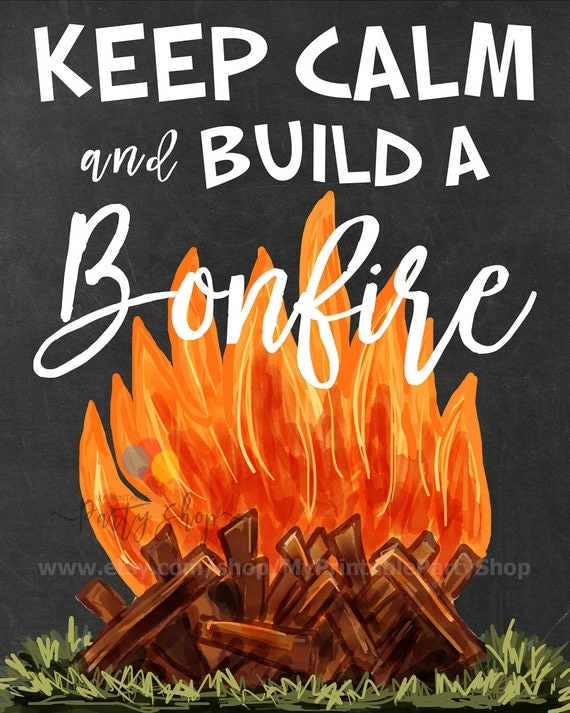 Keep Calm And Build A Bonfire Chalkboard Sign

&
You will need a supply of firewood to keep your fire burning, but there are a couple things to keep in mind beforehand.
Always get your firewood locally or from a company who sells wood sourced locally. Transporting wood and deadfall from other areas contribute to the migration of invasive insects and plant diseases. Use wood sourced as close to your burn area as possible.
Avoid using pallets, pressure treated lumber, scrap wood or driftwood. These contain toxins and chemicals and are not considered safe for cooking or inhaling.
Use seasoned firewood that has been cut and dried out. Freshly cut firewood is too green and can be difficult to burn. Wet wood will create a lot of smoke and will not get hot enough to get a good burn going.
Soft woods such as pine, spruce, and fir, are the easiest woods for starting a fire. They ignite quickly, but they also burn quickly. Soft woods are perfect for small backyard fires because they burn for a shorter amount of time and are easy to put out with water at the end of the night. Hard woods can be added to the fire once it gets going. Hard woods take longer to burn and they put out much more heat than soft woods, but they can be a bit more difficult to douse once the party is over and can re-ignite from heat the wood retains internally.
Firewood Log Carrier
Shaker Log Bin
Adjustable Length Log Rack
Open Wood Fires Not Allowed? Use A Propane Or Natural Gas Fire Pit Instead!
Do you live in a city or area that does not allow open burning? Don't like smelling like a campfire? A natural gas or propane fire pit table is a great alternative! You can still enjoy spending evenings outdoors in the cool, crisp weather and keep warm and cozy at the same time by huddling around the fire table.
Outdoor Fire Pit Table With Cover
Fire Pit Coffee Table with Wicker Base
Organize Your Party Supplies
You are going to need some roasting sticks for your party guests to toast marshmallows for making s'mores. Roasting forks and s'mores baskets are perfect for serving large crowds of people. The roasting sticks can also be used for roasting hot dogs.
Marshmallow Roasting Forks
Original S'more Maker
Six-S'more Maker For BBQ or Oven
At a minimum, you will need to provide cups, plates, and napkins for your guests. If you plan on serving food in addition to s'mores, you will need bowls if you are serving chili or soup, plus flatware including spoons, forks, and knives. Tablecloths not only protect your tables, they add a big pop of color to your party arrangements. I am totally crushing on the bio-degradable plates and bamboo straws featured below.
Rustic Wood Plastic Tablecloth
100% Cotton Plaid Tablecloth
Flames Balloons
Orange Balloons
Brown And White Polka Dot Balloons
Plaid Napkins
All Natural 100% Compostable Disposable Party Plates
Green Disposable Wooden Cutlery Kit
Orange Paper Plates
Square Brown Paper Cake Plates
Birch Paper Straws
Orange Plastic Cups
Ideas For Setting Up A S'mores Bar And Drink Station
Designate an area specifically for s'more building by setting up a table with a variety of s'mores ingredients. Direct your party guests to the table with a S'mores Bar or S'mores Station printable party sign. Laminate the signs to make them more durable for the outdoor weather. You can even wipe them clean at the end of the night and store them for next year's party.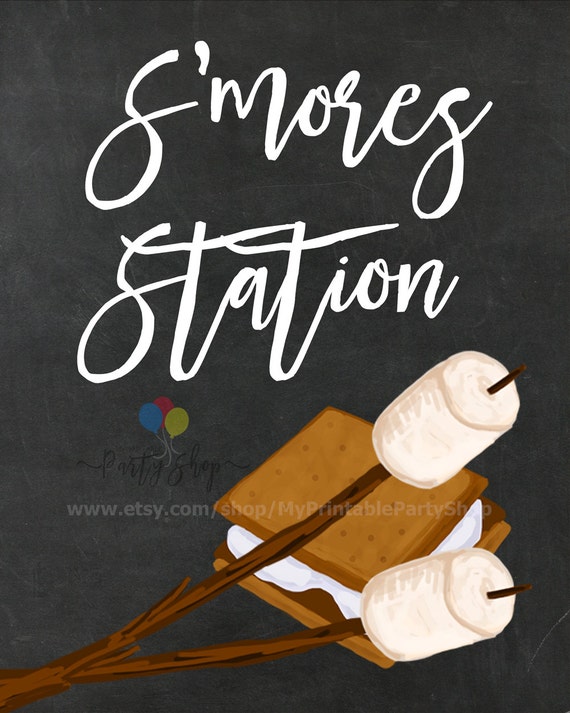 S'mores Station Chalkboard Sign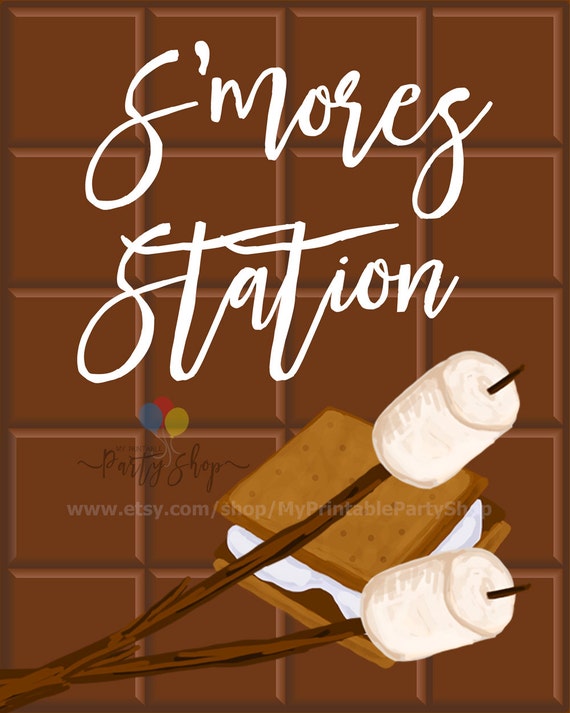 S'mores Station Sign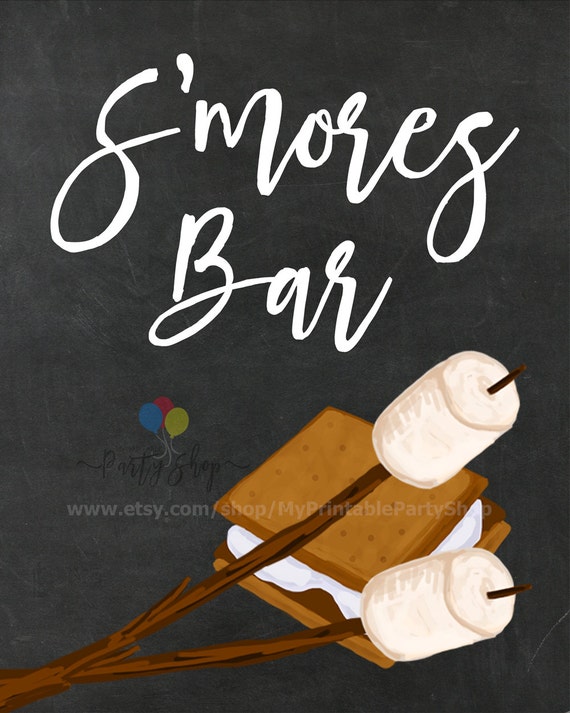 S'mores Bar Chalkboard Sign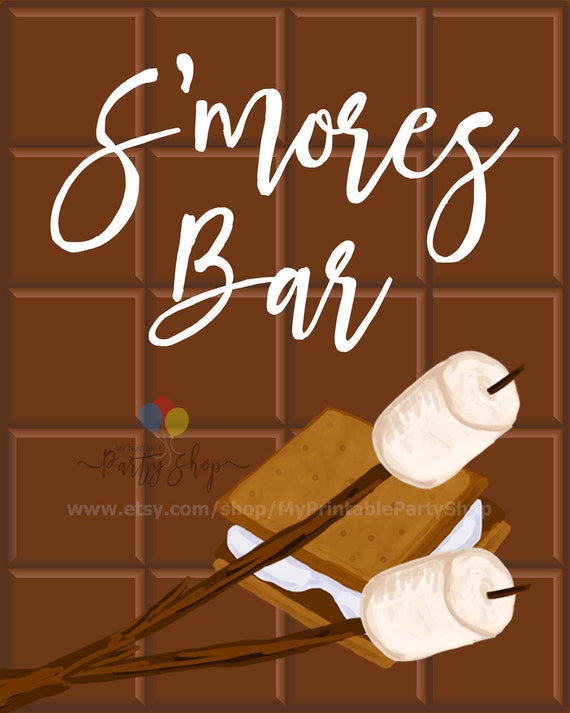 S'mores Bar Sign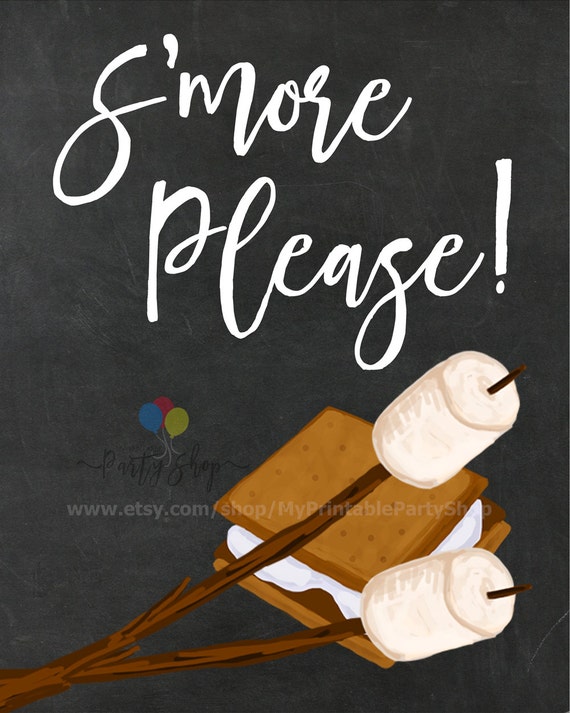 S'mores And Bonfire Party Chalkboard Sign

S'mores And Bonfire Party Sign

&
You can't have a s'mores bar without s'more ingredients! Fill up bowls with marshmallows, graham crackers, and chocolate candy. Add some fun choices to your menu by including a variety of fillers to choose from such as flavored marshmallows, peanut butter cups, peppermint patties, nutty chocolate bars, caramels and even cooked bacon strips. An assortment of cookies is also another fun offering.
Smores Marshmallows
Hershey's S'mores Kit
Smores Kit
A designated drink station keeps the beverages organized. Set up tubs filled with ice to keep the water, juice, pop and alcoholic beverages cold and fill up thermal urns with hot cocoa and coffee to keep the warm beverages hot.
42-Cup Coffee Urn
Party Tub with Stand
For an adult party, these Get Toasted Party Signs featuring a pair of mugs filled with frosty beer would look super cute set up near the drinks. After your guests have a few, they may be in need of a sign to direct them to the bevies, ha ha!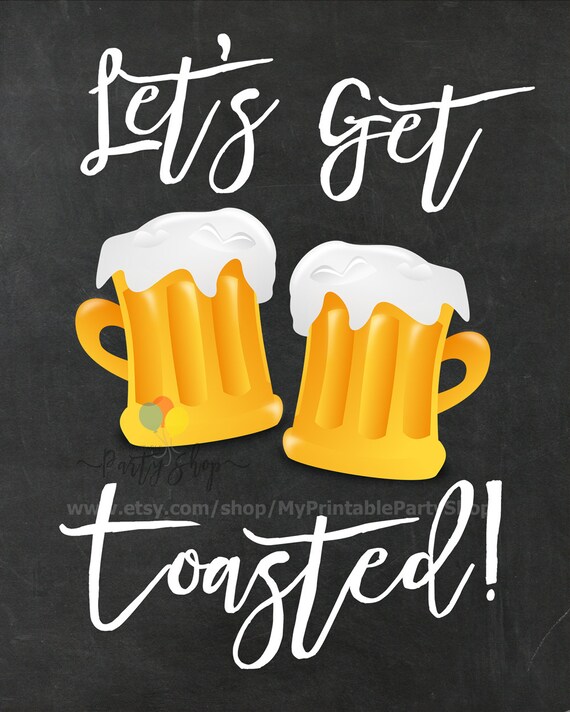 Let's Get Toasted Sign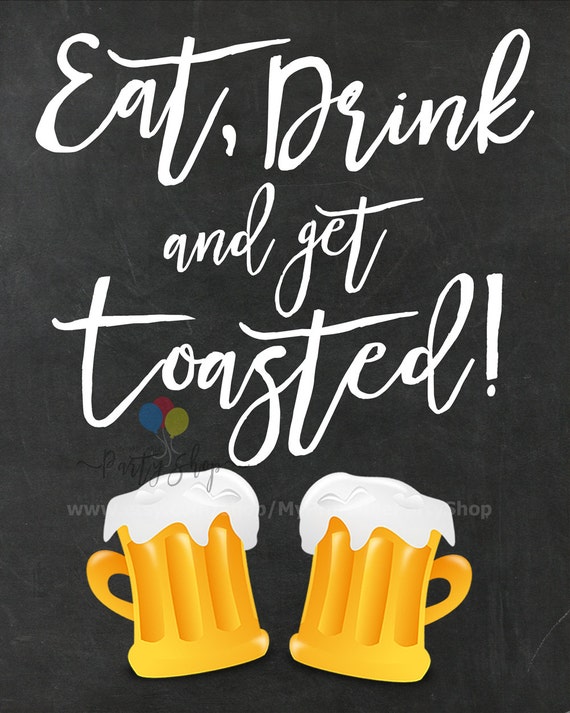 Eat Drink And Get Toasted Chalkboard Sign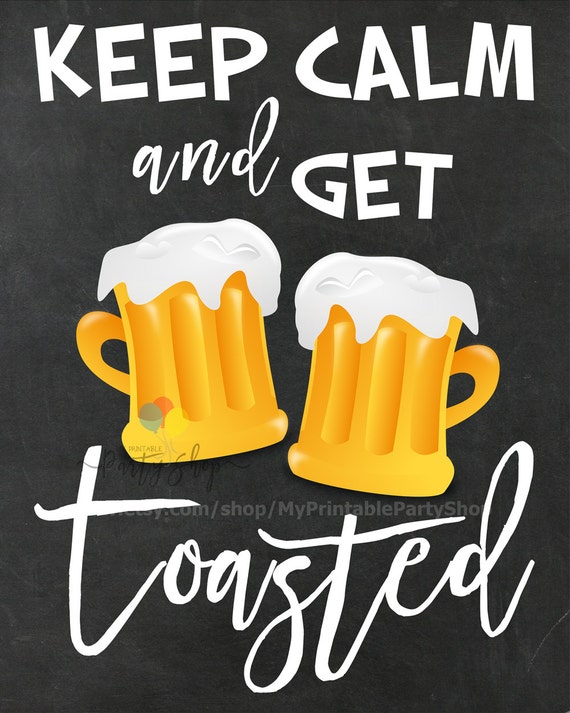 Keep Calm And Get Toasted Chalkboard Sign

&
Set Up A Hand Washing Station
S'mores are sticky business! Set up a hand washing station that includes a bin or jug of warm water for your guests to rinse their hands as needed. If you have ever tried to clean s'mores off your hands with a dry paper napkin, then you know that the napkin will just end up sticking to your hands, adding to the mess!
Decorating Ideas For A S'mores And Bonfire Party
Decorate your outdoor space with party decor and tableware to add a cohesive feel to your theme. Any outdoor-themed decorations would look great. Some ideas include brown and orange decorations, lumberjack decorations and rustic wood decorations. I think it would be so much fun to hide the brown bear life-sized cutout in a bathroom or tucked behind a tree to give your guests an extra thrilling fun time, hee, hee. Photo booth props are all the rage at parties. Encourage your guests to grab a prop and snap a picture. A great way to document your party.
Outhouse Door Cover
Campfire Table Centerpiece
Tree Bark Footed Server
Lumberjack Photo Booth Props
Wooden Card Holders
Birch Place Card Holder
Flame Cupcake Wrappers
Fire Cupcake Food Picks
Brown Bear Life Size Cardboard Standup
Hanging Flame Light
Oil Lantern String Lights
Red Party Cup String Lights
Printable Party Signs are an inexpensive way to add a big impact to your party and they help tie your theme together. All these signs measure 8″ x 10″ and are available as JPEG and PDF. Laminate the signs to protect them from the outdoor weather to make them last indefinitely. They also make awesome party favors too.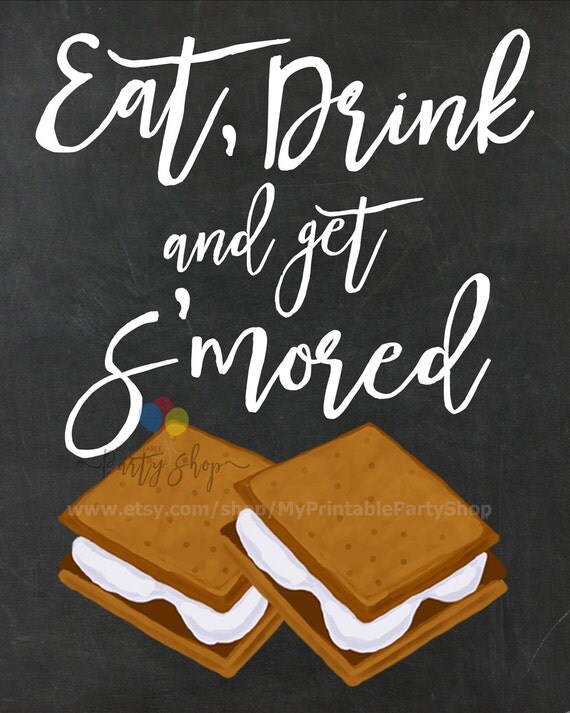 Eat Drink And Get S'mored Chalkboard Sign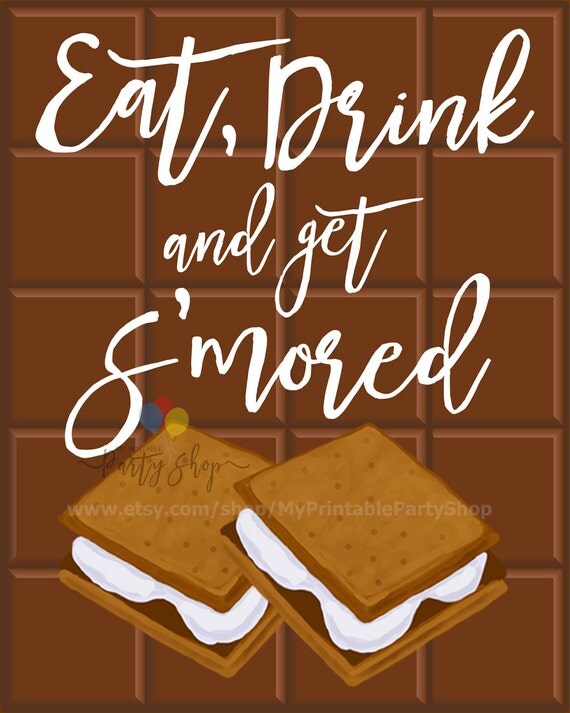 Eat Drink And Get S'mored Sign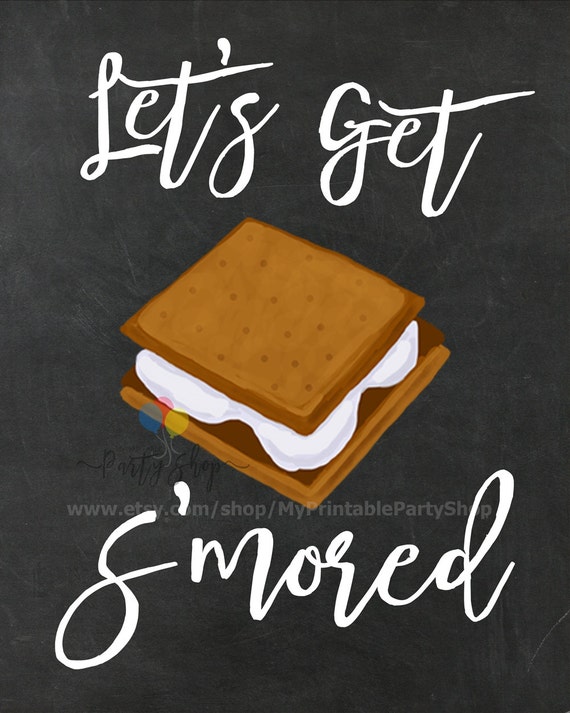 Let's Get S'mored Sign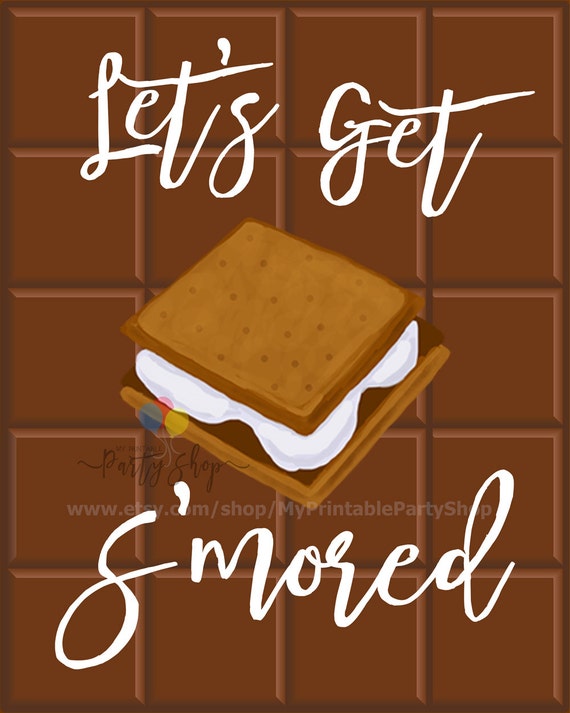 Let's Get S'mored Sign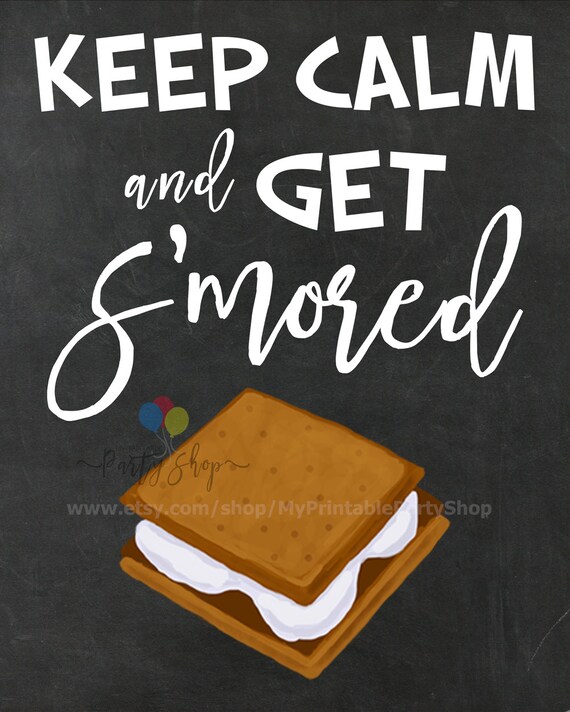 Keep Calm And Get S'mored Chalkboard Sign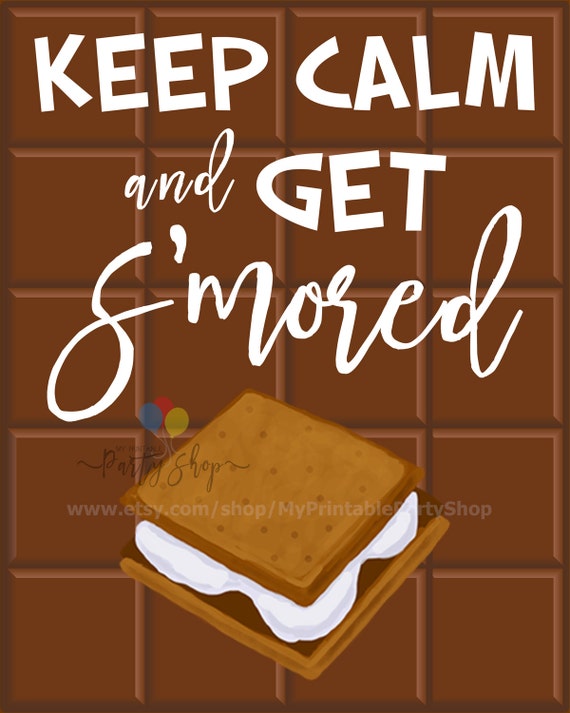 Keep Calm And Get S'mored Sign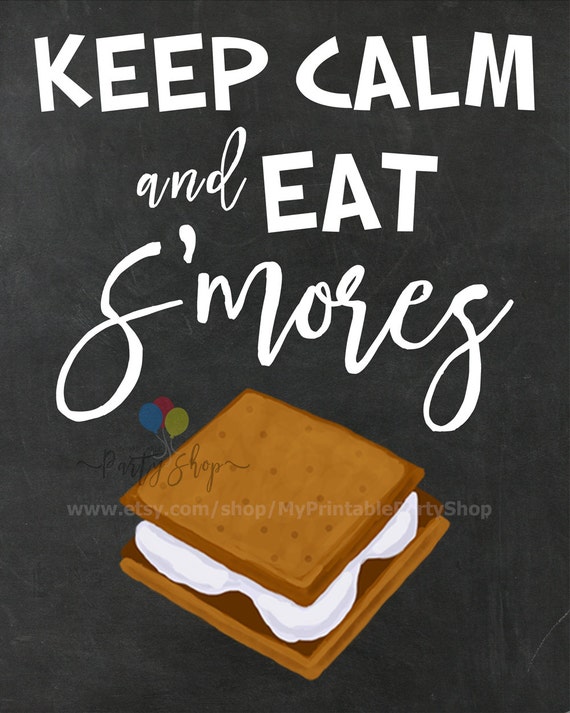 Keep Calm And Eat S'mores Chalkboard Sign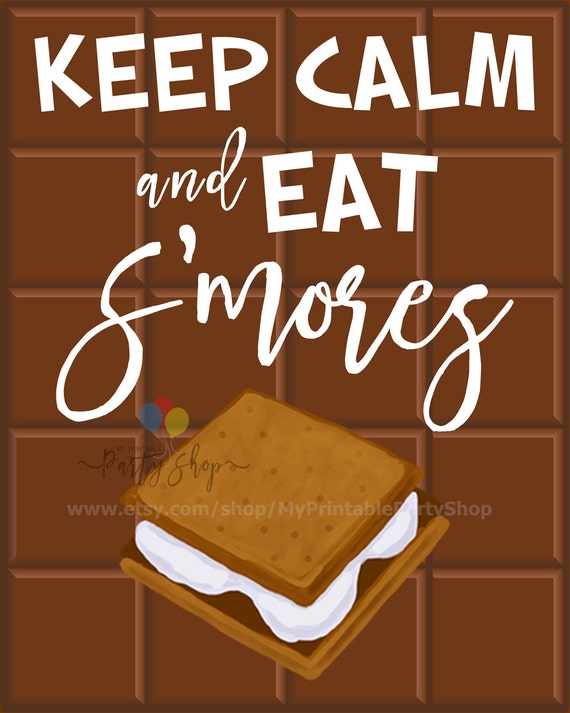 Keep Calm And Eat S'mores Sign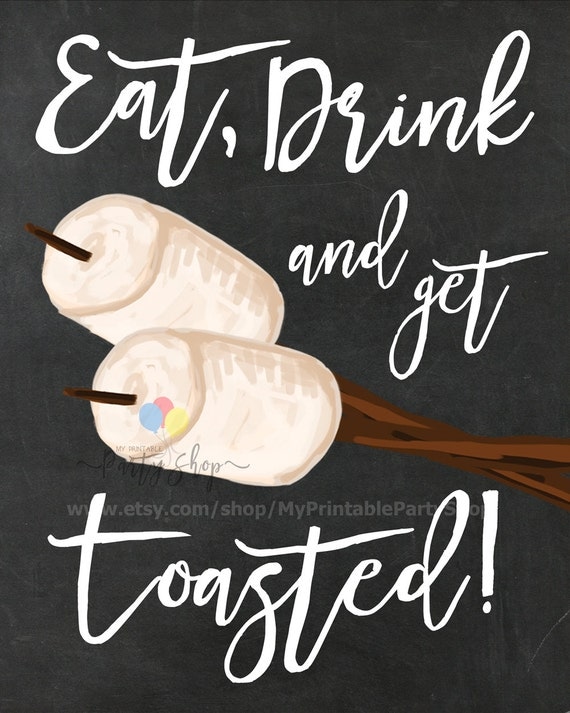 Eat Drink And Get Toasted Chalkboard Sign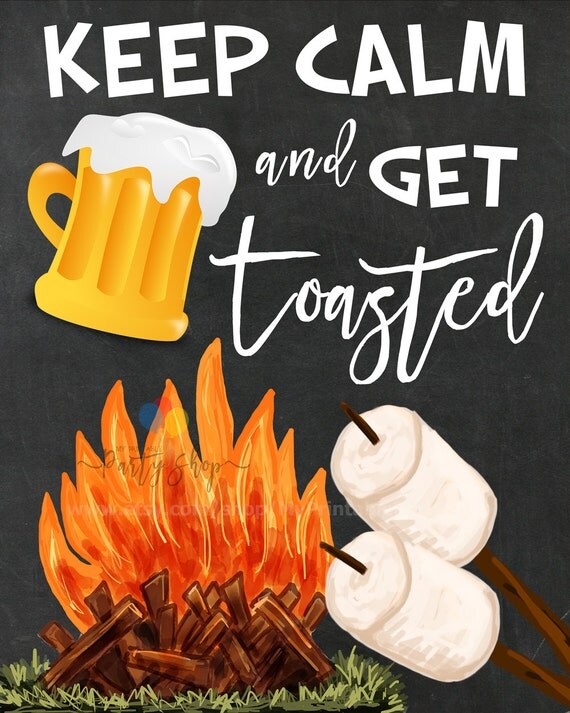 Keep Calm And Get Toasted Chalkboard Sign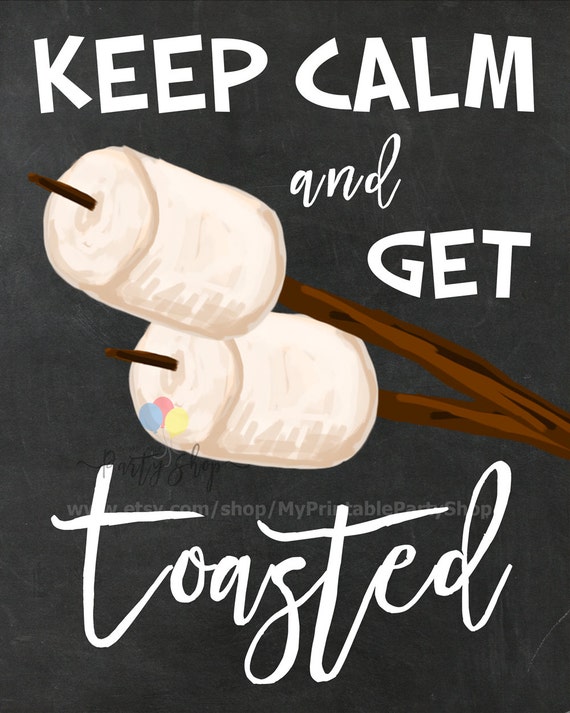 Keep Calm And Get Toasted Chalkboard Sign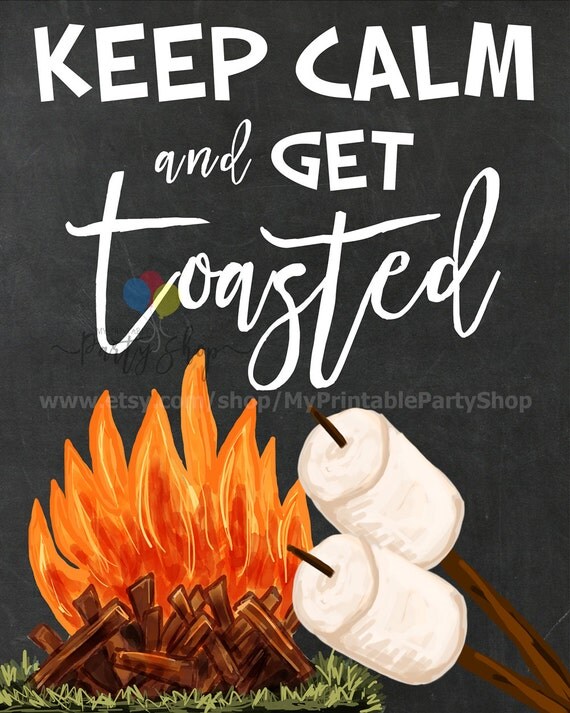 Keep Calm And Get Toasted Chalkboard Sign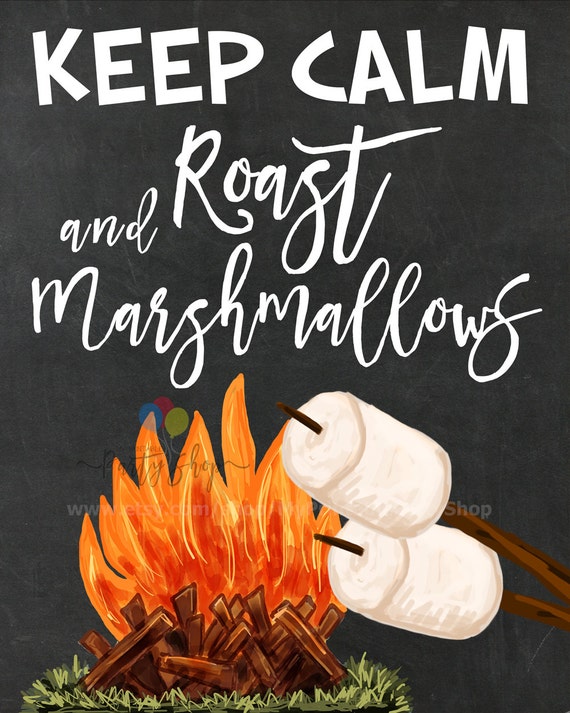 Keep Calm And Roast Marshmallows Chalkboard Sign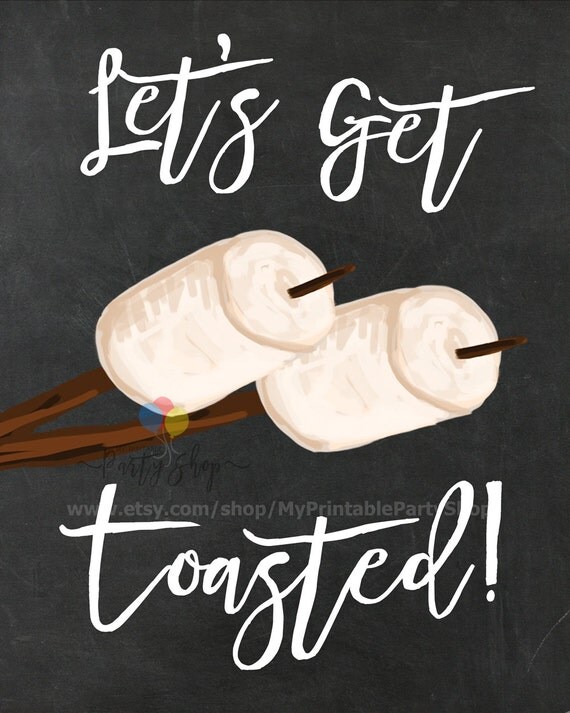 Let's Get Toasted Chalkboard Sign

&
Put Out A Basket of Mitts, Toques, Blankets And Extra Socks
Don't let the cold weather put a damper on your party or your guests! Keep your guests comfortable and warm by offering up mittens, toques, blankets and extra socks. You can get mitts, hats, socks and fleece blankets at dollar stores for cheap. After the party, if you no longer have a need for these items, local shelters, and thrift stores would appreciate the donation. These also make excellent party favors for a kid's bonfire party!
Party Favors Ideas For A Kids Party
Are you hosting a family or children's s'mores and bonfire party? Here are some ideas for party favors they may enjoy, such as glow sticks, mini flashlights, s'more flavored treats, card games, Mad Libs, an ornament and even a s'mores craft. I am totally digging that S'mores Duck Tape! Mitts, fuzzy socks, and fleece blankets also make great bonfire party favors for kids and adults.
Glow Sticks
S'Mores Ornament
S'mores Please Duct Tape
Flashlight Key Chains
S'mores Oreo Cookies
3D S'mores Foam Craft Activity
S'mores Luna Bar
S'mores Salt Water Taffy
M&M'S S'mores Crispy Chocolate Candy
More S'mores Card Game
UNO Wilderness Game
Bonfire Party Games And Activities
Autumn is a wonderful time of the year for hosting an outdoor family party. There are so many fun activities that are perfect for fall such as pumpkin carving, pumpkin bowling, hayrides and bobbing for apples. These activities are great for the whole family to enjoy and build memories together.
Party games are also a great way to break the ice and get the party started. Below you will find a selection of games that are ideal for playing around the campfire, board games that can be set up on picnic tables and outdoor games that can be played on the lawn or dirt. Lots of fun for everyone!
Toasted or Roasted Card Game
S'Mores The Card Game
Spot It! Gone Camping Card Game
Deer in the Headlights
S'Quarrels: The Game of Absolute Nuts
BULZiBUCKET Indoor Outdoor Game
Giant Yardzee Lawn Yahtzee
Bocce Ball Set with Carrying Case
Adult Bonfire Backyard Party Games And Activities
Bonfires, s'mores, beer, great friends and party games = outrageous fun! Party games are not just for kids. These games provide hours of hilarious entertainment for adults. The drunker you are, the better! Come to the party prepared to have a good time with your beer guzzling helmet and beer bong.
DRINK-A-PALOOZA Board Game
DRUNK STONED OR STUPID Party Game
Party Bong Single Beer Bong Funnel with Valve
Beer & Soda Guzzler Helmet
Drunko Drink or Dare Party Card Game
Thanks for visiting and I hope you found these s'mores and bonfire backyard party ideas helpful. Happy Fall Y'all!